Lower Gas Prices Are Not Good For Us.
----------- Sponsored Links -----------
----------- Sponsored Links -----------
In the last 4 days, I have seen our local gas prices go up by $.10…and I could not be happier about it. Call me crazy, but I think gas should be more expensive, not less expensive. In Europe, gas costs somewhere around 4 times what we pay for it here! I know in this economy we reportedly need low gas prices to at least help keep things going for a while longer (before everything falls apart, that is), but at $1.59 a gallon, we are getting it for virtually nothing. I was talking with a friend the other day and we decided that at this price, it felt like gas was free compared to the $5.00/gallon I paid in Los Angeles right before we moved here. Right now, a gallon of regular non-organic milk is $2.50 and a gallon of orange juice is $5 – on sale! Yet somehow gasoline – which is brought up from the middle of the planet as crude oil, gets refined, stored, shipped, delivered, put into pumps and into our car – is only $1.59 a gallon. Something is amiss here with this equation. Yes, food should be expensive, as it is what keeps us alive. But what oil has to go through to get to our cars means it should be much more expensive…but it's not. And I think that is a bad thing for both us and our planet.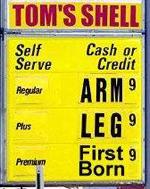 I do realize that when gas shot up to $5 a gallon in major cities that people stopped buying oversized school buses to commute alone to work in. I also realize that more people started taking public transportation, too. I get that, it's a good thing, and it was about time. While the rest of the world has been downsizing their automobiles, riding Vespas, and investing in high-speed efficient rail travel, we were on a binge for what Doug Fine calls "ROAT's" – Ridiculously Oversized American Trucks. (If you have not read Fine's book Farewell, My Subaru, you are missing out big time – here is my review.) We could not get enough of these vehicles, and they kept getting bigger and bigger and bigger – until they became a joke unto themselves. I will never forget the time I was in France at an outdoor cafe and a Hummer drove by on those little skinny streets they have. The people at the table next to me (about 3 inches away – this is France we are talking about here) started pointing and laughing at the driver, making fun of the truck. I laughed along too, as I think they are dumb…but a lot of people don't and found themselves with these behemoths sitting still in their driveway because they could not afford the gasoline to run them anymore. And while the gas prices were hurting my wallet as well, I could not help but be happy that the prices were going to make people think long-term about the cars and trucks they buy; but then gas prices started falling.
Do I think that the majority of people will all of a sudden forget $5/gallon gas and run out to buy ROAT's again? Nah, I doubt it. Will some? Of course. But I was hopeful that gas prices would stay reasonably high so that both consumers when making a purchase choice would buy a fuel efficient vehicle and our manufacturers would start building them. There is no question why the American manufacturers are suffering and asking for handouts – they cannot (and have chosen not to) compete with the Japanese and Germans on style, reliability and fuel efficiency. They continued to build and push big trucks and gas guzzlers on the American public, and many consumers went elsewhere because really, who can afford 18 MPG at $5 a gallon? And that is why I think lower gas prices are bad for us – I do not want to see us revert to behavior that will only hurt us down the line. We need to focus on hybrid and/or electric cars (my preference) right now, and higher gas prices will force us AND the manufacturers to make that happen. If gas stays cheap, a lot of people will not see the value in investing in these technologies, and it will only delay the inevitable – gas at exorbitant prices and cars that still only get 20 MPG. And that's why lower gas prices are not good for us…at all.
----------- Sponsored Links -----------
----------- Sponsored Links -----------