Make An Impression With Recycled Paper Business Cards
----------- Sponsored Links -----------
----------- Sponsored Links -----------
I just came across this company called ReBinder that makes binders, CD Sleeves, notebooks, labels, folders, and tabbed dividers out of recycled paper. But I think the coolest thing they have is a recycled paper business card made of 100% recycled paper in a natural brown cardstock. All you have to do is download their template, design your card, and send it back to them — your cards are printed in just a few days.
The cards are called "ReSponse" and run about $60 for 250 cards. This is what they look like: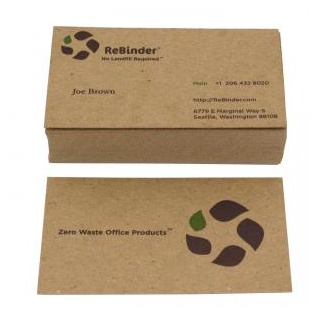 If you get a chance check them out, you might find something you would have bought that normally is made out of regular paper that you can get here in recycled format. I think this is how I will print up my next batch of business cards because if you are going to talk about the benefits of recycling and sustainability, I suppose it is only right to have your business cards be sustainable as well.
----------- Sponsored Links -----------
----------- Sponsored Links -----------