My Apartment Building Is Going Solar!
----------- Sponsored Links -----------
----------- Sponsored Links -----------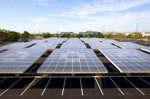 I woke up this morning, stumbled to the kitchen for my groundwork organic free trade coffee, and made my way over to the front door to open it up for the cat. I caught a glimpse of a piece of paper stuck under my screen door and pulled it out from there, opening it as I lifted it up. I started reading.
Turns out we will be going solar sometime soon!
Although there is not enough room on the roof for enough panels to power every individual unit in the building, the solar panels will be used for all common areas…the courtyard lights, the washers and dryers, parking lot lights, etc. As an added bonus, my landlord is going to be changing out all "fixed" bulbs in each apartment with CFL bulbs. (Since I already did mine, I wonder if I can get a reduction in my rent?)
Seems that Solar Santa Monica came out and did an assessment of our apartment building and decided it would be a good project to demonstrate the viability of more solar use here in the city. I hope they get started right away!
----------- Sponsored Links -----------
----------- Sponsored Links -----------