My New Patagonia Fleece Made From Recycled Plastic Bottles.
----------- Sponsored Links -----------
----------- Sponsored Links -----------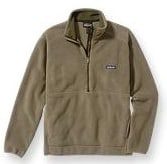 I was a little hesitant when I saw that these fleeces were made out of recycled plastic bottles and old fabrics, but I could not be happier with my purchase. I had a gift card so I figured what better use for it than a fleece! The fleece is called the "Synchilla Marsupial", and is 100% polyester made from 85% recycled soda bottles, unusable second quality fabrics and worn out garments – pretty cool, huh? It is incredibly soft and one would never know that it used to be a bunch of plastic…except I just told you that so now you know. Right now, a bunch of the colors of this fleece are on sale if you want to go over to Patagonia site and check them out. But on to my only concern about the product…
I cannot decide if it is better to buy a product that might have a larger "travel pattern" but is made from recycled materials, or one with a smaller "travel pattern" but is made from virgin materials! How far a garment travels has to be taken into consideration due to carbon emissions, and these fleeces, which do start off as recycled plastic, follow the route below:
Recycled fibers go from North Carolina and join up with recycled fabrics in Massachusetts. Then they both take a trip down to Mexico for the sewing. (They do social audits there, so it is a good facility) The finished garments go from Mexico back into the U.S. to Reno, NV for distribution. At the end of your garments life, Patagonia recycles them to Japan where they are broken back down into usable fibers yet again.
This information comes from Patagonia's Footprint Chronicles, which allows you to follow the path of a few of their products. Kudos to them for being honest and upfront about this; if only a few more companies would do so. They do a lot of work behind the scenes on environmental issues, and they donate 1% of profits to 1% For The Planet (which I really need to join!). They are pretty well known for being a conscious company, so I feel pretty good about buying this fleece from them. I guess that is the best we all can do!
----------- Sponsored Links -----------
----------- Sponsored Links -----------