My New "Real Deal" Hat Made Of Recycled Tarps From Brazil.
----------- Sponsored Links -----------
----------- Sponsored Links -----------
The people over at The Real Deal Brazil were kind enough to send me a sample of their "Tarp Hat", which is made from recycled tarps of Brazilian cargo trucks – pretty cool, right?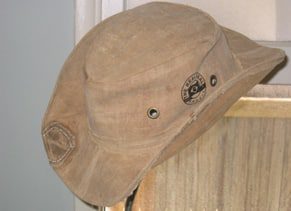 Now I just need to go camping or on a hike! My old hat I used to wear to go camping is quite gnarly, so this hat came right in time. It fits perfectly, seems really sturdy, and according to the wife, looks pretty cool. According to the Real Deal Brazil website, this hat:
The Real Deal is made in Brazil of recycled canvas tarpaulins from cargo trucks used for transporting goods. Every hat is truly one of a kind as no two are the same. Each hat has its own unique character. Made from various colors of tarp, these hats may have patches, seams, holes, or even Portuguese writing. These hats are hand sewn by Brazilian villagers and reflect the true craftsmanship of the locals. Because the tarpaulins were designed to protect its contents from the rough elements in Brazil, they make perfect covers to shield your cabeça (that's head in Portuguese) from the hot summer sun. Every characteristic of The Real Deal tells a story of its prior life lived as a lonely truck tarp and reveals its journeys through the harsh elements in equatorial Brazil.
If you are in need of a hat, I would suggest you guys give them a look. They are really nice and very helpful – and the hat is only $29! You can even choose the size, the color, if you want "badges" from the old tarps on your hat, etc.. Real Deal Brazil.
----------- Sponsored Links -----------
----------- Sponsored Links -----------