My New Years "Green" Resolutions – What Are Yours?
----------- Sponsored Links -----------
----------- Sponsored Links -----------
Every year around this time people set big goals for themselves – to quit smoking, lose weight, get a new job, etc.. And about a month from now, many of us fail to meet all the goals we set because we aimed way too high and to do too much. There is no way to change every aspect of your entire life around based on a New Years resolution! So this year I decided to pick a few things that I have mostly already been working on – and resolve to try to do them better and/or more often. There is always room for improvement in everything we do; so why not just try to make those small improvements rather than try to change everything all at once? I feel like I will probably go further and have more success by focusing on smaller changes this year, so these are the things I will be working on. At the end of the post, please share your goals for 2009 in the comments!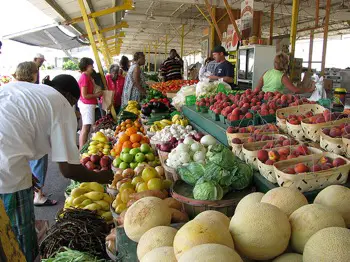 Photo by NatalieMaynor
We will try to eat much more locally sourced food.
The average bite of food travels over 1,500 miles from the farm (private or conglomerate) to a plate. This not only contributes to environmental issues, but it also takes money out of your own community. So starting this year, we are going to try to get as much of our food from local farms and providers. We already get our eggs from a co-worker of my wife's, but just the other day we did our first grocery trip of the year and specifically chose locally made honey, milk, cheese and even a few locally (greenhouse) grown veggies. It's winter here, so we will have to look a little harder for vegetables, but come spring we plan on…

Joining a local CSA for our fruits and vegetables. CSA stands for Community Supported Agriculture, and it entails signing up for a "subscription" to a local farm which buys you a certain amount of fresh food every week or so. This helps local farms stay in business and it helps you get healthier food! Some CSA's even offer your (or require you) to work a few hours on their farm to participate, which really brings home where your food is coming from. We plan on talking to a few of them to figure out what we can get and how often, and then paying the subscription fee to get our baskets of food starting in the Spring. To find a CSA near you, check out Local Harvest.
I will try to cut my non-local, non-organic meat consumption. My wife has been a vegetarian for over a year now, but I am not ready to give up eating meat yet. I rarely ever eat red meat and instead prefer turkey or chicken, and even then we always buy grass-fed/free range/organic meats. However, when we go out to dinner I don't normally have a choice in where the meat comes from. So from now on, I will do my best to either not order meat out at restaurants and/or find out where the meat comes from. Many of our local restaurants boast that they only sell "healthy" meat from local farms, so maybe we will try to go to those places more often. Either way, I am going to definitely cut down how much meat I eat, and when I do eat it to try to be sure it is organic and local.
Make more of our own food. We just baked bread from scratch with organic ingredients without the help of a breadmaker and it turned out great, so we will definitely do that from now on instead of buying bread. Come Spring I plan on growing some vegetables of my own, which should be fun. Also, we plan on learning the fine art of canning so we can have some of those vegetables over the winter!
We are going to try to watch less TV. Yes, I enjoy some television and I won't apologize for it! There are a bunch of shows that I really like, both on network and on cable channels, but I am going to try to not just watch TV because I am bored anymore. Too often I find myself turning on the TV because I don't have anything to do, but I am going to try to not do this as often in 2009. Instead, I will make sure the DVR is set to record what we want to watch, and then stick to those shows. What does this have to do with being green? Nothing really – other than the fact that I will have more time to work on recycle/reuse projects like the "ancient broken window into a nice mirror" project I started this weekend. Look for a post soon about this!
Assorted other resolutions – Get the rain barrels installed. Start a garden. Spend time in the garage building/reconfiguring stuff from materials I find or get from Habitat ReStore down the street. Spend more time outdoors exploring Northern New Mexico. Go camping!
So what do you guys plan on doing for 2009? Have any plans ready to be put into action? Let us all know in the comments!
----------- Sponsored Links -----------
----------- Sponsored Links -----------