Vegan Fair-Trade Boots.
----------- Sponsored Links -----------
----------- Sponsored Links -----------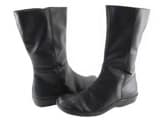 She was looking for new boots to replace her worn out and irreparable pair that she has had forever, and after seeing a ton of different ones that she thought she liked, she came across a pair of vegan, fair-trade boots at MooShoes. Although we are not vegan (or vegetarian, even – although we are very close to it at this point), she liked the idea that no animals were killed in order to make a pair of shoes, and that they were made in union factories in Western Europe, Australia, Canada, and the US. As for me, I like solid leather boots (aside from the killing of the animals, which kind of sucks) and think that it is an incredibly biodegradable product, but for her she wanted to try something different and pick up a pair of these boots. So she placed the order with some of her Christmas money and as soon as they arrived, she fell in love with them.
MooShoes is a vegan-owned business that only carries vegan shoes, belts, wallets, and other accessories. Their shoes are made from a polyurethane synthetic microfiber and do not contain any pvc or vinyl. Although I do not know what a polyurethane synthetic microfiber is, it sure does sound fancy and definitely not like leather. For me, I still prefer leather boots because I tend to really abuse my shoes, but for her, these fit the bill quite nicely. So if you are looking for a pretty nice alternative to leather shoes (and other stuff) you might want to check them out.
----------- Sponsored Links -----------
----------- Sponsored Links -----------