National Wildlife Federation Partners With Pesticide, Herbicide, & GMO Seed Company
----------- Sponsored Links -----------
----------- Sponsored Links -----------
That headline is not a typo, folks. The National Wildlife Federation, the very people who claim that they "work(s) to inspire Americans to protect wildlife for our children's future. As the nation's largest conservation organization, NWF and its 4 million supporters are committed to sustaining the nature of America for the benefit of people and wildlife" have partnered with ScottsMiracle-Gro, the maker of pesticides, weed killers, and genetically-modified grass seed. The press release contains this sweet paragraph about Scotts:
With approximately $3 billion in worldwide sales, The Scotts Miracle-Gro Company, through its wholly-owned subsidiary, The Scotts Company LLC, is the world's largest marketer of branded consumer products for lawn and garden care. The Company's brands are the most recognized in the industry. In the U.S., the Company's Scotts, Miracle-Gro and Ortho brands are market-leading in their categories, as is the consumer Roundup brand, which is marketed in North America and most of Europe exclusively by Scotts and owned by Monsanto.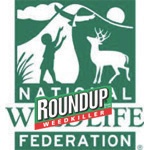 Roundup has been the subject of discussion amongst scientists with research showing "negative environmental impacts caused by glyphosate, the main ingredient in Monsanto's Roundup herbicide, which is used extensively with Roundup Ready genetically modified crops." How in the world does that coexist with the message of the NWF that they wish to be seen "sustaining the nature of America for the benefit of people and wildlife"? The very products made by their partner are designed and manufactured to kill and destroy nature, not sustain it. Just last year, these 28 environmental and health organizations began demanding an end to a partnership between Major League Baseball and ScottsMiracle-Gro:
Beyond Pesticides
Biological Urban Gardening Services
Californians for Pesticide Reform
Casco Baykeeper
Clean New York
Emerald Coastkeeper
For A Better Bronx
Friends of Casco Bay
Friends of the Earth
Galveston Baykeeper
Grassroots Environmental Education
Greenpeace
Healthy Lawn Team
Maine Organic Farmers and Gardeners Association
Maryland Pesticide Network
New Jersey Environmental Federation
Northwest Coalition for Alternatives to Pesticides
Oregon Toxics Alliance
Pesticide Action Network North America
Pesticide Watch
Pesticide-Free Zone
Project Ladybug
SafeLawns.org
Safer Pest Control Project
San Francisco Baykeeper
Sassafras Riverkeeper
Toxics Action Center
Watershed Partnership, Inc.
These groups oppose that partnership because "the chemical and seed company undermines sound environmental values by promoting turf management programs that are unnecessarily chemical-intensive" — and yet NWF thinks it's perfectly acceptable to partner up with Scotts? How does that sit with their members and supporters? I have written about The Nature Conservancy partnering with Monsanto before, and this new partnership ranks right up there in levels of hypocrisy. You cannot "protect wildlife for our children's future" while simultaneously partnering with a company making products which destroy wildlife.
If you are a member or supporter of the National Wildlife Federation, I recommend you contact them, let them know your displeasure with this partnership, and then cancel your membership. If NWF values corporate money from companies like this more than sticking by their principles, can you trust them with your donations?
----------- Sponsored Links -----------
----------- Sponsored Links -----------