Need New Wheels? Consider A Bamboo Bike.
----------- Sponsored Links -----------
----------- Sponsored Links -----------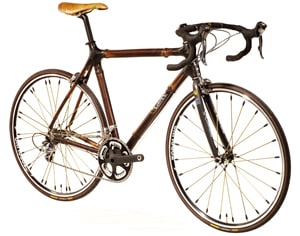 Yep, a bike made from bamboo. If you want to be really green and environmentally friendly, I am guessing that this would be the way to go! Made by CalfeeDesign, each frame is made to order and the tubes are selected based on the rider's weight. From the site:
Details. The bike is made from Bamboo that has been smoked and heat treated to prevent splitting. Lugs are available in carbon fiber or hemp fiber, for the all-natural look. The chainstays are available in carbon fiber for extra stiffness in the drivetrain.
Finish. We coat the bamboo with Tung oil to seal it up.
Awards. Calfee Bamboo bikes have won awards for Best Road Bike, Best Off-Road Bike and Peoples' Choice Award at the North American Handmade Bicycle Show.
A Calfee Bamboo bike won 1st place in the open class at the Great Western Bicycle Rally's Concourse d'Elegance show.
If there were an award for "Bicycle with lowest carbon footprint" (least amount of carbon dioxide emissions in the production of the frame), this frame would win, hands down.
I gotta say that's pretty cool. Bamboo should be used not only in material goods like a bike (who knew?) but should be used anywhere where people really want wood surfaces. Bamboo can grow up to 20 feet in a single season, making it a most prolific grower!
technorati: bamboo, bicycle, wood
----------- Sponsored Links -----------
----------- Sponsored Links -----------