November 2007 Dwell Magazine – A New Shade Of Green.
----------- Sponsored Links -----------
----------- Sponsored Links -----------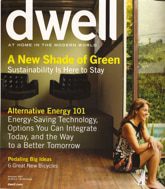 This month's issue of Dwell Magazine is the "green" issue it seems…even though there are stories every month about the same types of things. I have been subscribed to Dwell since they first came to market, which I believe was 8 years ago. And the magazine, while oftentimes covering things that are way out of my price range, does offer some great articles and ideas month after month. This month is no exception, especially if you are in to all things "green". Pick up this issue (or visit their website) to see:
Jennifer Siegal from Office of Mobile Design (who I have written about here before) and her "real life" home and creative stomping grounds.
A look at some very cool eco-friendly condos in Houston, TX. (of all places…)
An amazing home community in Indiana called the Farm Settlement, where modern and farm houses coexist peacefully.
Very useful article – Alternative Energy 101: Energy-Saving Technology, Options You Can Integrate Today
And my favorite, which is not on their website yet – A fully off-the-grid, independent home built for residents of the Navajo Nation. Seems that the University of Utah's College of Architecture + Planning is building these houses for residents…for less than $30K each.
Great issue, especially for those of us interested in sustainability and being green.
----------- Sponsored Links -----------
----------- Sponsored Links -----------