Off To Chicago By Amtrak.
----------- Sponsored Links -----------
----------- Sponsored Links -----------
Well, we are off on our grand adventure today from Los Angeles to Chicago by rail…Here is our route: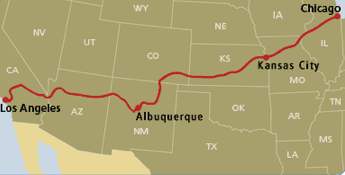 Aren't you jealous? We have our bedroom with 2 bunks and our books and snacks and we are ready to go. And think of the lower carbon emissions – 1,500kg of CO2 for flying versus under 150kg by train! This is definitely a slower way to travel, but anything that keeps me out of the airports at holiday time is a good thing. I could use to slow down a bit anyway, and this will force me to do so for at least a few days.
The blog will still be somewhat active while I am gone, but probably not as much as normal – I mean, it is the holidays and I know you guys have better things to do than read blog entries, right? Either way, wish us luck and I will share my train experience when we get back!
----------- Sponsored Links -----------
----------- Sponsored Links -----------