Oil Companies Profit While You Foot The Bill
----------- Sponsored Links -----------
----------- Sponsored Links -----------
From 2008 – 2010 "ExxonMobil reported $9,910 million in pretax U.S. profits. But it enjoyed so many tax subsidies that its federal income tax bill was only $39 million, a tax rate of only 0.4 percent." Yes, you read that right — a tax rate of only 0.4%, says Citizens for Tax Justice (PDF). I don't know how high your tax rate was on your income in past years, but I am guessing it was a lot higher than 0.4%, right?
"… the discrepancy between Exxon Mobil's rates and those of most American breadwinners. The company's effective rate of 17.6 percent is nearly 16 percent below the average individual federal tax rate, which according to the Congressional Budget Office was 20.4 percent as of 2007. Individuals in the highest quintile pay an average tax rate just over 25 percent in the United States. Exxon Mobil, meanwhile, paid approximately the same effective tax rate as Americans in the fourth income quintile which includes Americans earning from $62,000 to $100,000 a year" says Think Progress.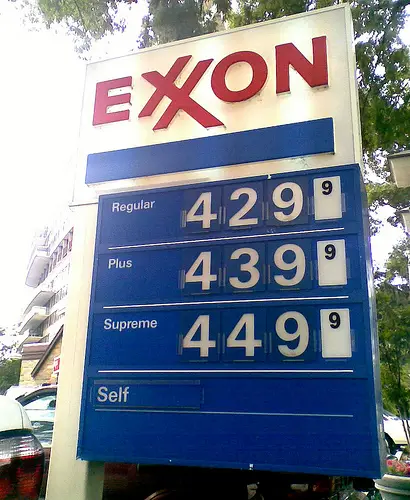 Oil company profits have been a de-facto dinner table conversation for a few years now, what with the biggest few companies reaping wildly huge profits. In the 1st quarter of 2011 alone, Exxon/Mobil made $11 billion, Shell made $6.9 billion, BP made $7.1 billion, Chevron made $6.2 billion, and ConocoPhilips made $3.0 billion. That's a lot of profit, even if the oil companies had to pay their fare share of taxes on it like the rest of us do. However, not only do they not pay their fare share but the government gives them about $4 billion in annual tax subsidies. Yes, our government, i.e. you and I, pay for the oil companies to get a $4 billion tax break when they are showing billions in profits. You and I effectively reduce their taxable income by $4 billion dollars each and every year. When was the last time the government, or your fellow tax-paying neighbor, handed you boat loads of money and told you they were going to help you pay your taxes, even as you were reporting record profits year after year?
Never, that's when.
While the figures are sketchy and incredibly difficult to pin down (the oil companies like it that way), the fact remains that the average taxpayer in the United States pays a larger percentage of their income in taxes than a company making billions in profits every year. Not income, mind you. Billions in profits. And when the oil companies attempt to explain how much they pay in taxes, they forget to leave out the taxes that, wait for it, you and I pay at the pump that they have to forward on to the state and federal governments. They actually include those figures as tax dollars they themselves are paying, but that's not them paying taxes at all — that's us.
Angry yet?
In a time when our economy is in a recession and budget cuts are being implemented by federal, state, and local governments, you would think that it would be high time to cut the billions in subsidies that have been handed out to oil companies year after year in a time of record profits. At least, that would be the sensible thing to do, right? To be fiscally responsible? Well, at least one side of the political aisle (and even a few Dems) doesn't seem think so, because as they are busy trying to get cuts to Medicare, Medicaid, education, and Social Security passed, the GOP doesn't think the oil companies should pay their fare share to help out.
"Last month the House GOP voted unanimously to protect taxpayer-funded subsidies to big oil. All of the belt tightening, you see, has to be done by Medicaid and Medicare recipients, not by those poor beleaguered oil company execs."
Think what you want about the policies of Republicans vs. Democrats, but something here stinks. Too often I hear consumers complain about the price of gas or the tax per gallon they have to pay at the pump, but the real scam here is that the oil companies are making out like bandits, not the local gas station owner or your local town government. Whether you vote blue or vote red, no company making billions and billions of dollars in profits should be receiving free taxpayer money from our government. I don't have an issue with them making money; I have an issue with all of us having to then send them even more. They have plenty of their own money to support drilling or oil exploration and should be paying their fair share in taxes like the rest of us. Before we go cutting services to the needy, the elderly, or the education of our children, I think we need to look at where our tax dollars are going and demand they be appropriated to places they are needed and not to billion dollar corporations with money to burn.
Photo By brownpau
----------- Sponsored Links -----------
----------- Sponsored Links -----------