Travelogue With Photos – Our Yurting Trip To Treebones Resort In Big Sur.
----------- Sponsored Links -----------
----------- Sponsored Links -----------
For a few days last week, my wife and I went up to Big Sur, California to stay in a yurt at Treebones Resort. What's a yurt, you ask? Well, according to Wikipedia, it is "a portable, felt-covered, wood lattice-framed dwelling structure used by nomads in the steppes of Central Asia." And while I did not see any nomads from Central Asia while I was there, I did get to see plenty of lizards, hawks, California Condors, whales, seals and sea-lions. First off, let me say that if you ever have a chance to stay in a yurt for a few days, I highly recommend the experience. As you will be able to see in the pictures below, it is a far cry from camping while still allowing you to be in touch with nature – and as my wife put it, it was like summer camp for grown-ups. The people running Treebones were incredibly nice, especially Marty, who seemed to always be around in the main lodge whether it be at 7am for breakfast or at 8:30pm for dinner. The yurt that we were assigned to, #4, was not directly on the water but we could still see it from our deck. However, just taking a few steps down the hill gave us a full view of the Pacific Ocean. The Northern California coastline is a lot different from our coast here outside our door at home, as development is pretty much off-limits and it is very quiet and desolate. Which was exactly what we needed! More on our trip later, but first – some of the 250+ pictures we took while we were up there: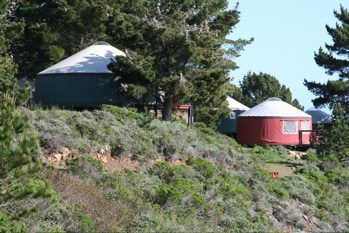 A general shot of the yurts from down below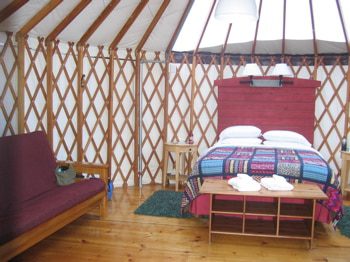 The inside of our yurt, #4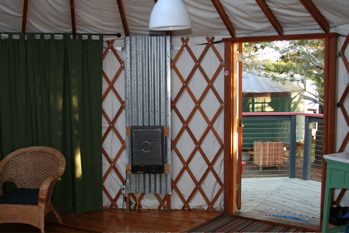 Another shot from inside our yurt, looking towards the door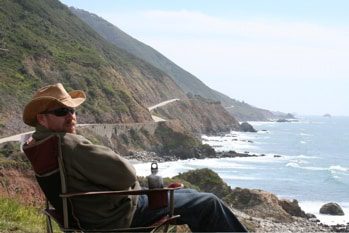 Me, after enjoying lunch on part of our drive up the coast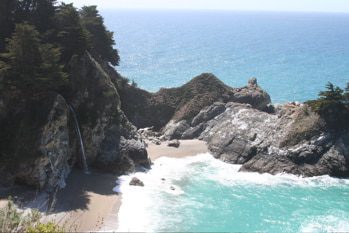 Cool waterfall draining directly into the ocean at high-tide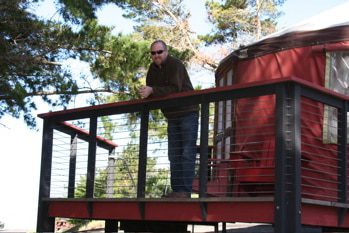 Standing on our deck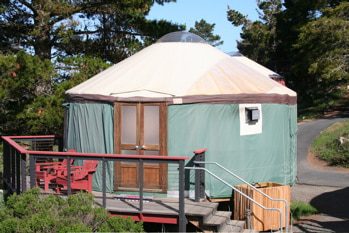 Another yurt on the premises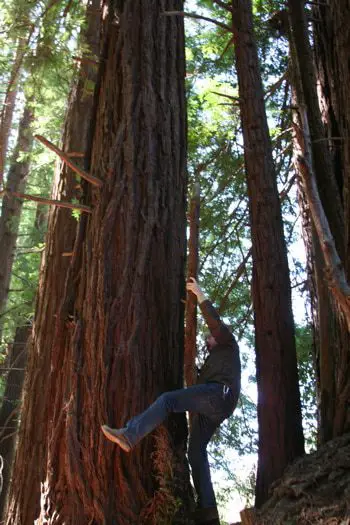 We also visited a redwood forest where we hiked in about a mile to this grove. No trees were harmed in the posing for this photo
Now that we are back from our trip, I have to say we have a sense of sadness in coming back to reality. Up at Treebones, it was so quiet at night that all you heard was the wind blowing around the yurt and the shaking of pine trees. (and occasionally the kids in the yurt next door…) We sat outside really late at night and just stargazed for hours. No ringing phones, no internet, no television or Tivo…it was quite liberating! The yurts were warm enough with the propane heaters, but I do wish that they had wood fireplaces instead, and the beds were very comfortable. I highly recommend that anyone heading out to the Big Sur area check out Treebones Resort. The people are great, the food was good, and the experience was unbeatable.
As for the "green-ness" of Treebones, they are doing both great and a few not-so-great things up there. First off, the entire place is off-grid, in that they have a propane generator that makes all the power, and the extremely hot heat exhaust created from the turbines is used to heat the pool, hot tub and radiant flooring in the lodge. Cool, huh? That's the good news…now for some bad news. The facilities use paper cups for everything, whether it be for drinking water during the day, juice at breakfast, or a cup of coffee from the "always-brewing" coffee in the lodge. Luckily my wife remembered to bring her reusable coffee mug; I, however, forgot mine. And instead of hand towels or air driers in the bathrooms, they use paper towels, and it looked like they were not using safe cleaning products, but maybe I missed them. My wife did leave the owners a comment about this in the guest book, and I had a nice conversation with a woman at the front desk about "going green". We struck up a conversation about my wife's reusable water bottle she was carrying on our way out, and she mentioned that the owners were looking for more ways to go green. Great news! This is where I mentioned that I ran this website, and I will be sending her some information this week about ways that I think they could be more green and environmentally conscious. It would only take a few simple things and a small investment for them to be totally "green"!
I think that's enough for now, but if you are ever near Big Sur, you should check them out! If you want any more info about the place, feel free to drop me a comment or an email and ask away!
----------- Sponsored Links -----------
----------- Sponsored Links -----------