Over 16,000 Species Set To Die Off, Disappear From Planet Earth.
----------- Sponsored Links -----------
----------- Sponsored Links -----------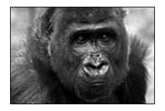 If you are thinking that the polar bears are the only ones at risk of going extinct soon, you would be way off. Turns out that more than 16,000 different species could be heading towards extinction, including our distant (or not so distant) relatives, the great apes. A report by the World Conservation Union lists apes, dolphins, coral reefs, and different plants around the globe that are on their way out. Want to see what specific species are set to disappear? Check out the Red List, but you get a little depressed after looking through it.
The real scary part? If they had more money to spend on these studies, they are positive that they would find even more species disappearing quite rapidly. Lovely news, no?
----------- Sponsored Links -----------
----------- Sponsored Links -----------