Please Stop Delivering The Phone Book To My House.
----------- Sponsored Links -----------
----------- Sponsored Links -----------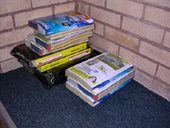 I have not opened a phone book in over 3 years. In case the phone company did not realize it, the internet tends to have most information that people need and it is much easier to use than their gigantic yellow book. I am sure that most people use the internet now (well, other than my grandmother) to look up information that they need so the big yellow books are kind of a waste of paper. I think they should change their system for delivering these monsters to a "request-based" system instead of a "we will just throw thousands of these at everyone's door" system. When I took mine out back to the recycling bin, there were already 9 of them in there from my neighbors. Multiply that times the amount of apartments and houses in my town that have thrown them away and you get a huge number. Multiply that times the entire country, and you have enough tree pulp to plant a new forest in every city in America. (*well, I would think so, but I did not do the math exactly…)
So how do you get the phone company to stop delivering the new phone book every year? First off, don't think that because you don't have home phone service that you automatically get taken off the list…cause you don't. I have Vonage and thus no service from the phone company and I still get the book. Just an FYI. Secondly, the phone books themselves have nothing in them with a number to call to stop delivery; I guess they just assume that I want a free 50 pound book delivered to me every year that I have to haul out back the minute I get it. The only thing I could find after searching for some information online was a place called The Directory Store, which seems to be a clearing house for phone books all over the country. Again, there was no place to just fill out a form to stop delivery, but they do have phone numbers to call…but not for stopping delivery either. Anyway, I am going to attempt to call these numbers this week and see what it takes to remove me from the phone book delivery list, but I am sure it is no easy task.
Please… phone companies… save some trees and some cash by making people opt-in to receive the phone book. I mean it when I say that I have not used the books in years and most people I know haven't either. But if you cannot do that, can you at least give us an option to stop receiving the books?
And if anyone out there knows of a sure-fire way to stop the deliveries, I would love to hear about it!
----------- Sponsored Links -----------
----------- Sponsored Links -----------