Portable Solar Charger For Your Gadgets On Sale For $19.99.
----------- Sponsored Links -----------
----------- Sponsored Links -----------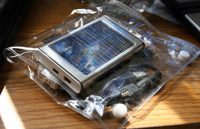 I don't know anything about the company or the gadget, but $19.99 for a solar charger is a pretty good deal. The people over at Golden Gadgets have put the "SUN-PEC Portable Hybrid Solar Charger" on sale this week for much less than I paid for my charger from another company. Some info on their version:
SUN-PEC is a hybrid charger because it can accept power from either the wall socket via DC Power Supply or Sun storing this energy within internal rechargeable battery.
Provides an emergency power source when away from power outlets
Interchangeable power tips allow you to power multiple gadgets with a single charger ( tips for most products included in pack)
Constructed with Aluminum Body for durability.
Adapter Plugs for mini-USB, USB, Motorola, Nokia, BlackBerry (see picture for adapter details)
Anyway, if you have been thinking of picking up a solar charger, you might want to check this one out as the price seems to be right.
----------- Sponsored Links -----------
----------- Sponsored Links -----------