Prefab Wednesday – 6040 House By Gregory La Vardera.
----------- Sponsored Links -----------
----------- Sponsored Links -----------
The 6040 House is a design by Gergory La Vardera of LaMiDesign based in Merchantville, NJ. I have been a fan of Mr. La Vardera's work for a while now ever since I came across his design "The Plat House" about a year ago. But these new designs, being built by Northern Steel International, are quite amazing. Starting at $135/sq foot complete, they are pretty reasonably priced.
The division of Northern Steel building these houses is called EcoSteel, which is based on the EcoSteelâ"¢ System, a pre-engineered steel shell package which includes a complete insulated Steel Building System along with exterior doors, windows, and trim ready for interior customization." According to the website, some of the advantages to building this way include:
– Fast to build, energy efficient construction technology.

– Eco-friendly recyclable, renewable building materials.

– No need to cut down trees or use asphalt based shingles/tar paper.

– Construction material waste is drastically reduced.

– Superior structural strength, maintenance-free exterior panels.

– Virtually eliminates toxic mold, termites and fire hazards.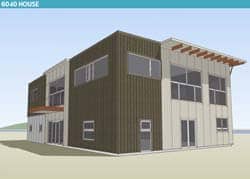 You can see the other plans that he has designed at LaMiDesign, but the steel built houses and more information about them are all available over at EcoContempo, where you can design your own 6040 house and then see 360 degree pictures of your design. I really like the idea of using steel to build houses, as we are then no longer cutting down forests in order to build and you drastically reduce the possibility of mold and other toxins inside your house. Currently there is a version of this house being built in New Mexico, and you can read about it at La Vardera's blog on Live Modern. Pretty cool stuff.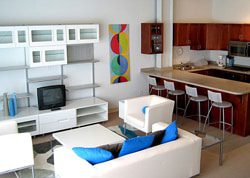 ----------- Sponsored Links -----------
----------- Sponsored Links -----------