Prefab Wednesday – A Few Prefabs By Office Of Mobile Design.
----------- Sponsored Links -----------
----------- Sponsored Links -----------
Yet another good reason I live in Santa Monica, as one day we were down the street in Venice on Abbot Kinney Blvd. and saw this model house sitting there on a tiny little lot: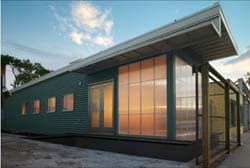 Turns out it is the model of the Show House by Jennifer Siegal's Office of Mobile Design. It was open so we went in and took a look around and it was absolutely beautiful. Jennifer was there as well to answer any questions so we chatted for a few minutes. Bamboo floors, tons of natural light, beautiful little bathroom all tucked into a neat little 12 X 60 foot floorplan. The exterior is clad with metal siding and translucent polycarbonate panels, while its interior features a high sloping ceiling, a Boffi kitchen and bathroom, and radiant heat panels. Although a little small for a family of 4, this example of what can be built off-site just proves that anything is possible. This seems to just be a showcase for the houses that OMD makes, as on the website there are examples of different houses being built in Palm Springs, Pacific Palisades, Joshua Tree, Manhattan Beach and a few other places. Houses include the Swellhouse, which "combines the smartest building technologies with cost-efficient prefabrication methods that are the vanguard of the manufactured housing industry".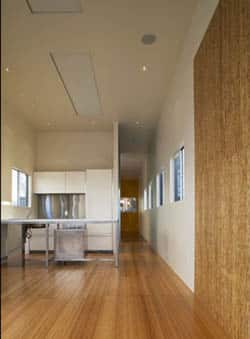 There is also an entire development going up designed by Ms. Siegal in Palm Springs with houses called the "Take Home"; these are 3 bedroom courtyard homes that are being sold right now. You can check them out at the site Take Home. As for pricing…well I could not find any information on the website but I would be curious how to compares to other companies doing the pre-fab thing. I think more of these companies need to start thinking about the effectiveness of having a pre-fab house costing $400,000 when most people looking at building one probably want to spend much less than that. So if anyone knows how much OMD's houses go for on average per square foot, I would love to hear from you!
----------- Sponsored Links -----------
----------- Sponsored Links -----------