Prefab Wednesday – LivingHomes By Ray Kappe
----------- Sponsored Links -----------
----------- Sponsored Links -----------
Oh sometimes I really know just how lucky I am that I live in Santa Monica. Ever since we saw that this house was being built just a short ways from here, we have driven by it a bunch of times to marvel at it. This house is beautiful if nothing else at all…This first LivingHomes home was recently built out here and designed by Ray Kappe: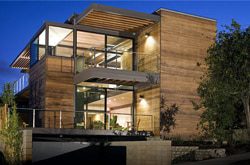 The house was designed to meet Platinum LEED certification, with a solar system, forced hot air radiant heating and air conditioning, doors and windows made out of recycled materials, and L.E.D. lights, which use even less energy than CFL bulbs. At 2,500 square feet plus indoor/outdoor spaces, one would not consider it very efficient, but it is designed to be at least 36% more efficient than a typical site built home. It is a prefab and it can be assembled in as little as 8 hours…by someone other than myself I imagine, but still, thats pretty cool.
Now for the sad part….it is very expensive. I know its a model and all, and I am sure prices will drop down a little bit, but again, another gorgeous sustainable prefab out of reach of the normal consumer. Right now it is priced at $300 per square foot, which puts building this for yourself at a bare minimum of $750,000 plus land. Just a tad out of reach for about 90% of the population, especially those who actually want prefab houses.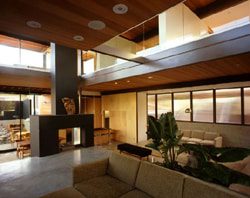 But it is so damn good looking and even better looking in person! Too bad we will never be able to afford one at all, but it sure is nice to look at and I am glad that sustainability in prefabs is getting a bigger look from a wider audience. For more info along with a ton of pictures and videos, visit LivingHomes.
----------- Sponsored Links -----------
----------- Sponsored Links -----------