Prefab Wednesday – The 0367 Porch House By Gregory La Vardera.
----------- Sponsored Links -----------
----------- Sponsored Links -----------
I had written before about Greg La Vardera and LamiDesign back in August, when I mentioned his 6040 House. But I wanted to mention a new project being built in Austin, TX – the Porch House, a two-story 2,100 square foot home usually designated as a vacation or weekend house. And although that may be what the design initially intended, I would love to have one of these as a year-round home! A true prefab it is not, because the houses are built on-site, but I still love the idea of a ready-made "custom designed" home plan that be built using typical wood construction or maybe even from his newest venture, a partnership with EcoSteel, building these houses out of steel.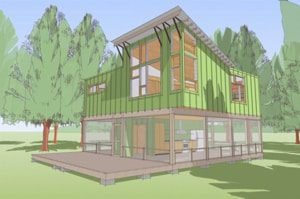 And what makes this house even greener is that the owners are planning on installing a composting toilet and a small septic system that will deal only with grey water from the sinks and kitchen. They are also going to be collecting rainwater, and they have plans to modify the roof slope to simplify the collection of the run off on one side of the house. Very nice!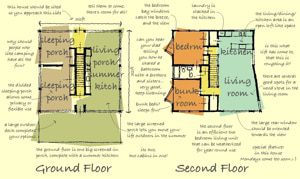 Here is what Greg has to say about the Porch House:
The Porch House leads a double life. During the winter it is a cozy two bedroom cabin. During the summer it is a weekend retreat able to accommodate many friends and guests. The entire ground floor of the cabin is designed as one big screened in porch, with sleeping areas and a summer kitchen which allows you to move your life outside for the summer months, hence the name Porch House. So despite the size of the house, during the summer months the number of people that can be accommodated can be quite large. These summer living spaces are made to drink in the scenery and make life at this retreat as different as possible from your daily life back home. Think of it as a machine for unwinding! Upstairs is a two bedroom "cabin" with an open living/dining/kitchen area. The living area is under the raised angled portion of the roof and has a large window on the high end wall. This end of the house is intended to be oriented towards a view. The bedrooms on the other half of the floor plan consist of a Bedroom and a Bunkroom for up to 4 children or guests.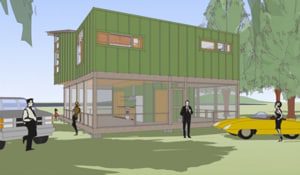 I am a huge fan of Greg's and would love to use a plan of his to build my own home one day. You can see all his home plans on his site, LamiDesign, or follow the construction process of several of his designs at his blog, LamiDesign Blog.
----------- Sponsored Links -----------
----------- Sponsored Links -----------