Prefab Wednesday-The Breezehouse By MKD Architecture.
----------- Sponsored Links -----------
----------- Sponsored Links -----------
I have to be honest…Michelle Kaufmann's first prefab design, the Glidehouse, was initially my favorite of all prefab houses on the market. I had never seen something that felt so much like a modern healthy home before and we fell in love with it immediately. We went up to San Francisco to see the Glidehouse at the Sunset Festival, sat through a presentation given by Michelle, and talked with her afterwards about it. We drove home thinking we were going to build one asap. That is, until we saw the Breezehouse a little while later: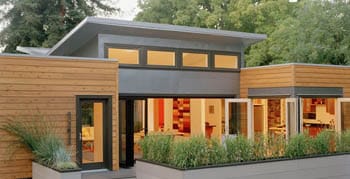 At this point, the Breezehouse became our favorite, and it still kind of is. We love the modern design, the open spaces, and all the green aspects. We still contemplate how we can afford one in addition to any land we might want; these are not cheap by any means. At about $250 per square foot and 1997 sq feet for the 3 bedroom, the cost is at least $499,250 plus land, which puts this prefab out of reach of most people looking for affordable housing. But still, we can dream.
As for the green aspects, the house is built so that breezes can come right through the entire house, cooling it off on those hot summer days, and the home is insulated with an air-barrier, open cell foam insulation, and all wood-to-wood framing joints are caulked, which makes the home airtight, energy efficient, and less likely to produce mold. The Sunset Breezehouse also uses water-saving plumbing fixtures, on-demand water heaters, and a mechanical ventilation system that is 30% more efficient than typical forced-air systems.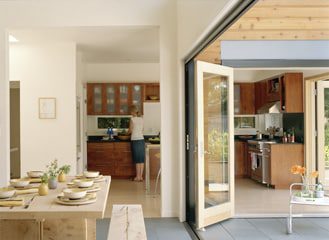 For more info on Michelle Kaufmann's designs and her other projects, check out MKD Architecture. These are truly some of the coolest prefabs available today, and while the costs are still high, I am hoping that with more research and more companies doing prefab projects that they all become more affordable. Building prefab is great because there is no wasted materials like site-built homes, and everything is built to exacting standards, making this is a great green choice.
----------- Sponsored Links -----------
----------- Sponsored Links -----------