Prefab Wednesday – The Cube 5 From H-Haus.
----------- Sponsored Links -----------
----------- Sponsored Links -----------
While not a "true" prefab house, the Cube 5 from H-Haus is assembled on site but made in a factory to exacting specifications. Made out of mostly steel, the house sports two bedrooms with private balconies, gas fireplaces in the lounge and master suite, super insulated walls and roof, thermopane windows and glass doors with low-E coating and a solar-assist heating package. Pretty nice stuff, no?
The main house: 2,100 sq ft, and there is an available 648 sq ft terrace and a 606 sq ft garage. Along with these add-on's, H-Haus also has geo-thermal heating, solar energy panels, rainwater harvesting, and wastewater recycling available. This makes the house even better in my eyes. No longer is it just nice looking, but you can make it very eco-friendly and sustainable. Here are the floor plans: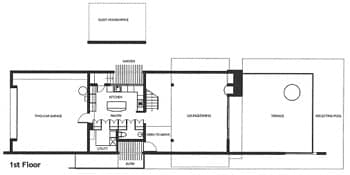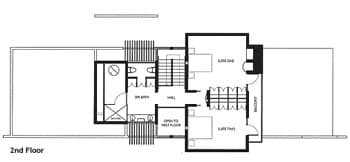 How much would one of these houses run you? For the house above, at Santa Fe, NM prices, the base price is $259,833. This is not including the finished terrace, the garage or any of the add-ons mentioned above. Add in all these, and the price can reach up to $360,592, about $100,000 more. But I could do without the full 2 car garage and the finished terrace and do those myself one day. So take those out but keep the "green" aspects in, and you are looking at $289,706 plus site work. Still expensive, but definitely not bad in today's real estate market for a brand new semi-custom home.
You can watch a video presentation of the home at their website on this page, and read more about this house and other houses they do over at H-Haus.
----------- Sponsored Links -----------
----------- Sponsored Links -----------