Prefab Wednesday – The LV Series By Rocio Romero.
----------- Sponsored Links -----------
----------- Sponsored Links -----------
Affordable? Check. Cool? Check. Approved by the wife? Not so much, at least not yet. But Rocio Romero is on to something here with the LV series of prefab homes: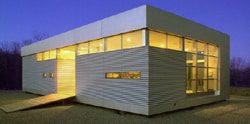 1150 sq. ft, living room, dining room, kitchen, 2 bedrooms, 2 bathrooms, and closets all for $33,923. Now that is affordable prefab housing! A lot of people take issue with the simple steel box look of the house, but I kind of dig it in its simplicity. After all, what more should a house be other than 4 walls, a roof and a few rooms where you can hang out and put your feet up? These McMansions going up everywhere are way above and beyond what the average person really needs…and the LV fills that gap incredibly well. On top of how inexpensive the homes are, they are incredibly green due to the use of steel and their double 6 inch walls, which gives the house an insulation rating of R-38…most homes are R-14 to R-19, so that is quite an improvement.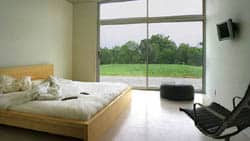 The siding comes in a bunch of different colors, you can alter the layout and amount of space you want, it can go on a flat slab or on a basement. And if you need something a little bigger, you can always check out the LVL model which is 1453 sq. ft with 3 bedrooms and 2 bathrooms…and it starts at $42,115. Check out all the info, slideshows and different models at Rocio Romero.
----------- Sponsored Links -----------
----------- Sponsored Links -----------