Prefab Wednesday – The m-house By Tim Pyne.
----------- Sponsored Links -----------
----------- Sponsored Links -----------
This week's prefab is the m-house, a design by Tim Pyne. Based in the UK, it is not available here in the United States, but I sure wish it was. The house is over 1000 square feet and is delivered to your site in 2 pieces and then assembled. Costing £147,500 (about $297,000) the house is not cheap, but at the same time is pretty reasonable considering what you get for the price.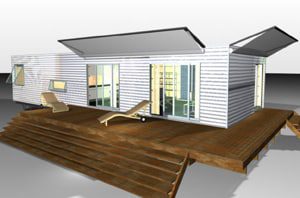 So just how much care and attention to detail goes into this house?
* highly insulated
* self-supporting structure; internal walls can be omitted if you want a big open space
* aluminum standing seam roof
* environmentally responsible materials
* noise insulation in walls and roof
* under floor heating throughout (electric or gas)
* solid fuel stove for cosy nights in front of the fire
* fitted kitchen with loads of worksurface and storage
* fridge, freezer, hob, oven and dishwasher (all Neff in Europe)
* utility/ drying room
* tiled bathroom
* big double-ended steel bath with a view out of the window
* kingsize bed decks with storage below and big shelves for books
* fitted wardrobes with mirrors inside the doors
* birch ply walls with beech trims; birch fitted furniture
* painted tongue and groove ceilings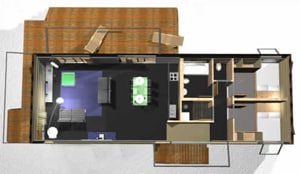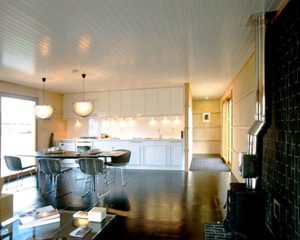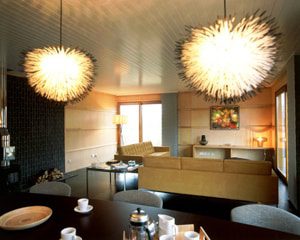 If you want to watch a cool video with the architect and the house itself, check out this one that was filmed for Discovery TV. Overall, I think this house is a fantastic example of prefab housing and what can be done with it, and even at under $300,000 is one of the most attractive and well thought-out designs available. For more info, visit m-house.
----------- Sponsored Links -----------
----------- Sponsored Links -----------