Prefab Wednesday – The Quik House By Adam Kalkin.
----------- Sponsored Links -----------
----------- Sponsored Links -----------
Made from recycled shipping containers, these Quik Houses are definitely a pure example of prefab housing…after all, they were built a while ago and can be delivered in their final form. The Quik House has three bedrooms and two and one-half baths in its 2,000 square foot plan. Made out of 6 shipping containers, the house can be delivered and assembled as an empty shell in one working day, and they estimate you can have the entire house ready for move in within 3 months.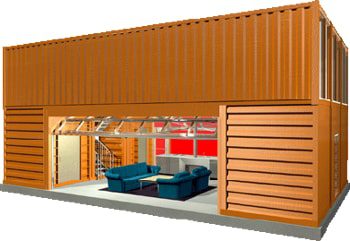 So, how much does it cost? For the 6 shipping containers, all the glass for the windows, basic plumbing and electrical systems and walls ready for inspectors, they estimate the cost to be $119,000. Add in what they estimate for all the finishing work ($65,000) and you come up with a grand total of $184,000…plus shipping. Not cheap, but not too expensive either for a 2,000 square foot house.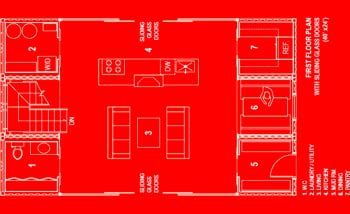 And what's the green factor? Well, since the containers make up the majority of the house, and they are recycled, one can safely say that about 75% of the home is made from recycled materials. That's pretty green! You can also add on solar or wind power and a green roof system, making for an even greener home. Although there is currently a 6 month waiting list, this looks like a very nice alternative to some of the more expensive prefab homes on the market. Taking into consideration land cost, which varies greatly by area, $184,000 for a house of this size and "green-ness" is not too bad. They also offer houses ranging from 1,000 square feet up to 5,000 square feet, so even by removing one shipping container from a plan, the reduction could save you a healthy chunk of change. Interesting stuff! Check out the Quik Houses website for more info.
----------- Sponsored Links -----------
----------- Sponsored Links -----------