Prefab Wednesday – The weeHouse By Alchemy Architects.
----------- Sponsored Links -----------
----------- Sponsored Links -----------
A two bedroom prefab for $109,000? Sounds interesting. Except for the foundation, fitting and seaming of the house after arrival, and utility hookups, these weeHouses from Alchemy Architects come ready to live in. Very cool!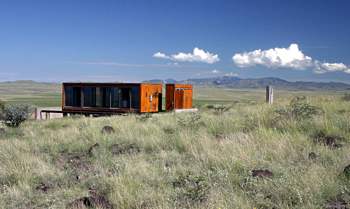 The base models include: windows and patio doors, Container siding (cement fiberboard with vertical battens), EPDM cold roof, tongue and groove bamboo flooring, white painted gypsum board ceilings and walls, and Ikea kitchens, cabinets, sinks. WeeOne and weeTwo bedroom doors are five-foot wide "loft-type" surface-mounted birch sliding doors. WeeHouses include module design, rough site layout, and approval drawings.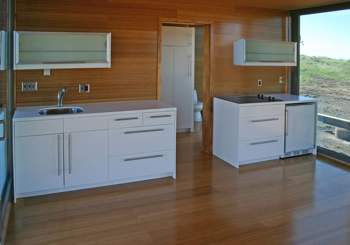 If you want to see what can be done for $45,000, you should check out this weeHouse built in Minnesota, which looks like this on the inside:
Any way you slice it, these are cool little houses for not too much money. Considering the price of land in certain areas that we really like, adding on $109,000 plus site work is not a bad deal for a completed, ready to live in house. Hmmm….And if you happen to be going to the Dwell on Design conference in S.F. this year, they will be there, so don't miss them!
----------- Sponsored Links -----------
----------- Sponsored Links -----------