Rally For Universal Health Care In Los Angeles.
----------- Sponsored Links -----------
----------- Sponsored Links -----------
Just a quick little head's up…if you live in or around Los Angeles and believe we should all have universal health care, you might want to attend the giant rally that is planned for Saturday, August 11th in downtown.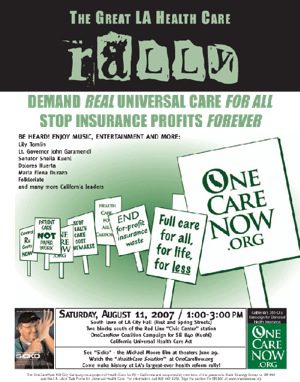 The rally is in support of Senate Bill 840, titled "The California Universal Healthcare Act", authored by Senator Sheila Kuehl. From One Care Now.org:
The bill creates one plan and one public trust fund which pays all health care bills and collects all the monies already being spent on health care and insurance plans, which is called a "single payer" system. When enacted, SB 840 replaces all health premiums, taxes, deductibles and co-payments now paid by employers, employees and individuals with one affordable premium paid to the public trust fund to save $8 billion dollars in the first year alone and over $350 billion over a ten year period.
I would be attending but with family in town, I don't think we can convince them to attend with us. For more info, check out One Care Now.org.
----------- Sponsored Links -----------
----------- Sponsored Links -----------