Reader Question – More About My New Green THINK Chair.
----------- Sponsored Links -----------
----------- Sponsored Links -----------
I received an email yesterday asking me a few questions about that new THINK chair I bought earlier this month, so I decided to answer the questions in a post so everyone could read about it.
First off, the price. Yes, it was expensive. And no, I did not pay what Steelcase charges from their website, and no, I was not given the chair for free to do a review or anything. I bought it with my own money, thank you very much. (Although, if they WANT to send me one, they can feel free!) After searching the internet for the best price, I found a retailer called Office Environments that was an authorized dealer for Steelcase products. There were a few other sketchy companies that also sold these chairs, but Office Environments was great. At the time, the chairs were quite a bit cheaper than buying direct from Steelcase, and they offered free shipping. Unfortunately, it looks like they are no longer on sale, but maybe they will be again? (Psst – Office Environments – could you offer a sale price to my readers maybe? Let me know and I will pass it along!) Anyway, yes, it was expensive, but now that I have been sitting in it for a while, I would have paid more. I think it has saved me from years of physical therapy!
The other part of the question was about the chair itself. The chair can be configured with just about any color/fabric you want (including not-so-green leather), different color bases, solid or see through fabric in the back…it goes on and on. I liked the look of being able to see through the back of the chair; the rods going across looked kind of cool. And adjustments…wow. It goes up and down, the seat pulls out towards your knees and goes back in, the armrests go up and down, side to side and also swivel. The back has a movable lumber support that my wife and I can adjust to our heights. And here is the best part – The back has 4 different settings for how far it goes back when you lean. There is a knob you twist to choose the settings, and then it depends on your weight to actually adjust how far you go. The idea is that your body should move while sitting in the chair, and unlike my old wood chair, this one lets me do that.
This might explain it better – see the corresponding text below for the details: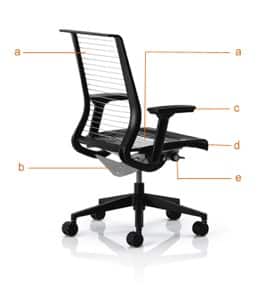 a.Your Profileâ"¢ Seat and Back
Back flexors track with the individual movement of your spine and pelvis. The back flexors are individually shaped to the human form to provide optimum support for each area of the back. Seat flexors conform to your shape, providing a dynamic comfort pocket.

b. Your Powerâ"¢ Mechanism
The Your Power Mechanism moves as fluidly as the human body does. It provides recline support in proportion to your own body weight, while keeping you oriented to your work.

c. Height, Depth, Width, and Pivot Arms
Arms telescope in and out, move forward and back, pivot and adjust up and down so you can find a natural position that comfortably supports the wrists, forearms, shoulders and neck.

d. Flexible Seat Edge
When you recline or lean forward, the seat edge flexes to relieve pressure on the back of the legs.

e. Your Preferenceâ"¢ Control
The Your Preference Control combines four comfort settings into one simple dial. Select your favorite setting : weight activated, weight activated with at 20% boost, mid-stop recline, and upright back lock.
Overall, I could not be happier. I hope that answers your questions, Steven, and let me know if you have any more. I will do my best to try to answer them! I know this probably sounded like an ad for the chair, and although it isn't, I am a full convert to spending money on proper office equipment if it makes you feel better and makes you more productive. The other reason I bought this chair over others was the Cradle to Cradle certification; it just doesn't get much better than that!
technorati: THINK, Steelcase, office chair, cradle to cradle
----------- Sponsored Links -----------
----------- Sponsored Links -----------