EarthTalk: Turning Recycled Materials Into Bags And Purses.
----------- Sponsored Links -----------
----------- Sponsored Links -----------
EarthTalk is a weekly installment from E/The Environmental Magazine.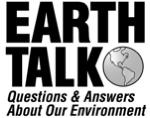 Dear EarthTalk: I've been hearing a lot about all the recycled materials being turned into handbags and purses. Are these bags actually fashionable?
Eco fashion, especially in the world of bags, purses and carriers, has proven to be an inventive outlet for all kinds of recycled materials. And yes, most of these bags, even those made from such unlikely materials as candy wrappers (by Ecoist) or carpets (CarpetBags), not only look good, but would probably draw looks of admiration from fellow bag aficionados.
The Canadian website, eco-handbags.ca, carries a large assortment of creatively adapted materials turned to wearable art from green handbag companies. There are bags made from old books, sailboat sails, juice boxes, aluminum cans, plastic bottles, neckties, cigar boxes, skateboards, candy wrappers, chopsticks, soda pop tops and bicycle tire inner tubes. And these don't look like they've been knit together from a trash bin: They are impeccably sewn one-of-a-kind accessories. The juice box cooler bag, handmade by a cooperative in the Philippines for Bazura Bags, is a great all-purpose carry-all, while the sleek Roadster Handbag made of truck tire inner tubes by English Retreads makes for a stylish everyday purse.
Ava DeMarco and her husband Rob Brandegee one day looked at used license plates and saw handbags. The couple had launched their company, Littlearth Productions, in 1993 with a mission to match style with eco-consciousness. At first, license plates were used as ornaments on recycled rubber bags. Then they became the bags themselves, twisted into colorful cylindrical purses. Now Littlearth's recycled license plate handbags can be found in more than 1,000 retail outlets and in the clutches of everyone from Oprah to Chelsea Clinton. "Everything we make is one of a kind, because all license plates are unique," says DeMarco. In one year, Littlearth recycled more than 15 tons of rubber and 40,000 license plates.
And why not turn all that old tire rubber into something eminently wearable? The material is completely durable and effective for everything from men's messenger bags to women's clutches. "I've always been aware of the tire situation," says Robin Gilson, president and founder of Vulcana, a company that makes bags out of recycled car tires. "They collect water; they are breeding grounds for mosquitoes. I thought: "˜Wouldn't it be great if you could melt car tires down and reshape them?'"
After taking a leave of absence from her job as an attorney in 1995, Gilson tracked down a company that would take recycled car tire crumb and mix it with natural rubber to create a material suitable for stitching into bags. Vulcana launched its product line in 2001. The company takes 30 to 50 percent of its material from recycled car tires. The rest is virgin rubber, mostly from small, family-owned plantations in Malaysia. Some products are hemp-fused, which means the rubber is cured directly onto a hemp fabric.
For animal-lovers the new range of handbags has been especially welcome, whether they're made from tires, records, hemp or chopsticks, these bags are a great alternative to leather and an easy way to make a fashion statement.
CONTACTS: Bazura Bags, http://www.bazurabags.com; Eco Handbags, http://www.eco-handbags.ca; Ecoist, http://www.ecoist.com; English Retreads, http://www.englishretreads.com; Littlearth Productions, www.littlearth.com; Vulcana, http://www.vulcanabags.com.
GOT AN ENVIRONMENTAL QUESTION? Send it to: EarthTalk, c/o E/The Environmental Magazine, P.O. Box 5098, Westport, CT 06881 USA; submit it at EarthTalk; or e-mail us. Read past columns at our archives.
----------- Sponsored Links -----------
----------- Sponsored Links -----------