Recycling Project: From Cardboard Boxes To Cat Scratching Pad.
----------- Sponsored Links -----------
----------- Sponsored Links -----------
A few weeks ago I saw a posting over at Design Sponge that had instructions for making a cat scratching post out of old cardboard. Talk about recycling! Since we have just moved yet again into our new place, we have plenty of the main ingredient for the project – the cardboard. Add in some duct tape and a utility knife, and you have the makings for a very easy project that any cat would love. I know that since I finished mine, my cat has spent a lot of time scratching at it and sitting on top of it, so I know he approves. Of course, mine is not as pretty as the one they made in the original posting, but then again I am not sure if the cat knows the difference.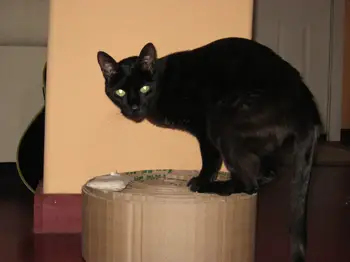 All he knows is that there is a new toy for him to mess with in the living room! The instructions to make this are incredibly easy:
1. Cut cardboard into strips of the height you want the scratching post to be.
2. Start curling the cardboard into circles, wrapping each piece around the previous pieces and attach with duct tape.
3. Keep going until it's the right size that you think your cat will use.
4. I used a saw to even off any loose ends on the bottom so it would sit flat on the floor.
That's it – that's all the steps! So if you have a cat, a few spare boxes and a few hours, you too can make a really nice recycled cardboard scratching pad for no cost at all!
----------- Sponsored Links -----------
----------- Sponsored Links -----------