Reduce, Reuse & Recycle – Turning An Old Window Into A New Mirror Part 1.
----------- Sponsored Links -----------
----------- Sponsored Links -----------
As I write this, I am just back from yet another couple of hours in the garage scraping old caulk, rubber, paint, mold and assorted other crap off of a very old broken window that I found on the side of the road. I have had to use a hammer and a chisel, a paint scraper, an orbital sander, random screwdrivers, pliers and a planer just to get the first layer off! I have no idea what the window was for in it's previous life, but it's shape and layout tell me it is not a typical window for a newer house. The top glass panel was nowhere to be found, but the smaller bottom panel was still intact and in one piece, so I took that out and put it aside so I could put it back in later.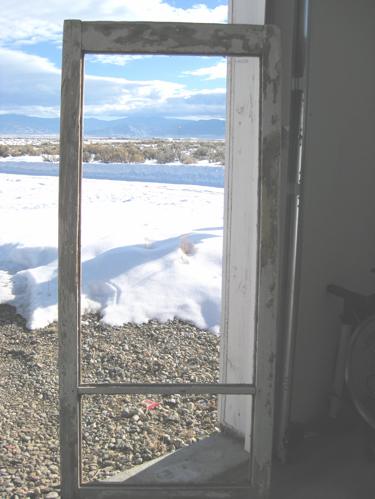 I had been looking for a mirror to hang on the wall in our house, but had not been able to find what I wanted…until I saw this dilapidated window.
I knew that with some work, I could reuse this old piece of solid wood to build the mirror that I envisioned. I plan on getting every last bit of junk off the wood, scraping the paint off the glass sheet, having a mirror cut to size for the bigger opening, and then covering the entire thing with
Low-VOC
"New Mexico Blue" paint – a royal blue color that seems to be on so many New Mexican front doors.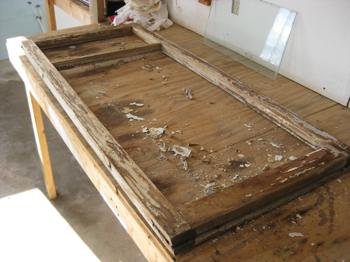 Talk about the 3 R's – I have Reduced the need for a new product, I have Reused something & I have Recycled an existing item into something new! Very rarely does a project come along that can use all three of the R's successfully with only very minor purchases to make it work. Heck, if I can find a used thin mirror to have cut instead of using a new one from the hardware store I would be more than happy to do so. Guess I will keep my eye open for one around here. But in the meantime, I will head back to the garage to get the wood back to looking like wood again and prepped for painting. Look for another post with the final result, and don't forget – before you throw something away, see if there is a way you can
reuse or repurpose it for something else
.
It's projects like this one that remind me to take a second look at almost everything that is headed to the trash or recycling bin!
----------- Sponsored Links -----------
----------- Sponsored Links -----------