File Under "Finally" – Replenish Reusable Bottle System.
----------- Sponsored Links -----------
----------- Sponsored Links -----------
This is a brilliant idea, and I am amazed that it took this long to for something like this to come to market. This new household cleaning product, called "Replenish", is basically an empty plastic bottle made from PET-1 with a "twist-on" bottom full of concentrated cleaner. You fill the plastic bottle up with water, mix in some of the concentrate, and you have a bottle of household cleaner. When you run out, fill up the bottle with water again, mix in a little more concentrate, and your bottle is as good as new. You don't have to go out and buy a whole new bottle of cleaner every time you run out, which keeps plastic out of the landfill and the recycling bin for much longer. Each of the little concentrate pods makes four bottles of cleaner, so you pay for the cleaner and not the bottle and water usually found inside typical cleaners.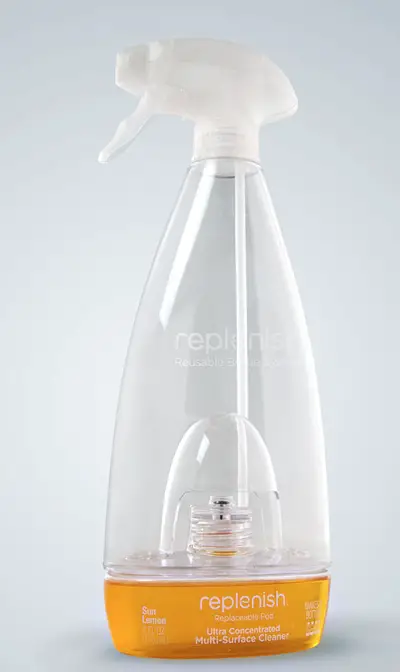 Supposedly the product is non-toxic to aquatic life, readily-biodegradable, PH Neutral, and 98% plant derived, and was developed in conjunction with William McDonough's company MBDC, which does Cradle to Cradle products and certifications. (He is also the author of Cradle to Cradle, see my review right here) For people who only feel comfortable purchasing their cleaning products in a store, this looks like a safe, much less wasteful alternative to typical cleaners. Although…
You could always just mix up some vinegar, water, and maybe a little castile soap and make your own cleaner, which is what I do now. I have a reusable stainless steel spray bottle that I fill up, and it works just fine.
🙂
----------- Sponsored Links -----------
----------- Sponsored Links -----------