This giveaway has ended.
It's been a while since I have given away some products on the site, so I was thrilled when Jeremy from Green Virgin Products got in touch with me last month about his soap nut liquid and other skincare items. He has generously offered to give one lucky reader of The Good Human a prize package of a few of his best products, and I will go over the details of that in a little bit. But first, a little bit about the company…
Started by Ken & Lola Marion in 2009, Green Virgin Products sells only non-toxic, eco-friendly products that don't cost more than the "standard" toxic products found on grocery shelves. Soap nuts, moringa oils, non-toxic cleaners, deodorants and soaps, along with several other products, fill out their line of items made with the highest quality ingredients possible.
Jeremy sent me a small package filled with the company's soap nut laundry detergent liquid, some Moringa Oleifera oil, a deodorant stone, and a bar of their soap, all for me to give a try. Here's what I thought: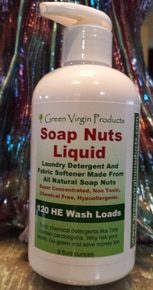 Soap Nuts Liquid – I have tried soap nuts off and on over the years for washing my clothes, and sometimes they have done a good job and sometimes not. I have never tried it in liquid form, so was kinda excited to see how it work. Turns out, it does what it says it does; it cleans your clothes. Made from USDA certified organic Sapindus Mukorossi, the liquid smells vaguely "nature-ish" (is that a saying?) and most assuredly better than fake fragrance found in most laundry soaps. One 8 oz bottle is enough for 120 high-efficiency laundry loads and retails for $18.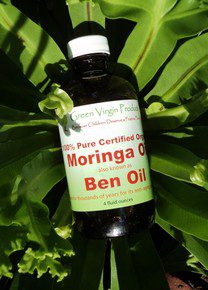 Moringa Oleifera Oil – This was already stolen by my significant other and taken to her bathroom. According to Green Virgin Products, Moringa Oil has more vitamins, minerals, proteins, antioxidents and amino-acids than any other food, and other websites tout its use for acne, moisturizer, massage, stronger hair, dandruff, and even nervous system soothing. I can't vouch for any of them other than I can say it's a good moisturizer for sure, and it smells pretty good too. A 4oz 100% certified organic bottle sells for $26.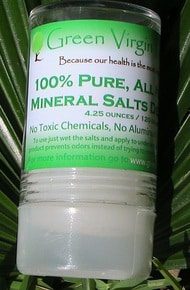 Deodorant Stone – I have been using Crystal Stick Body Deodorant for years, and that's kind of what this deodorant "stone" is. Made from 100% pure mineral salts, with no aluminum or carcinogens, I have been using it for a little bit now and it works really well. My only suggestion to them would be to make it in a "screw top" type container rather than the one it is in, but otherwise no complaints!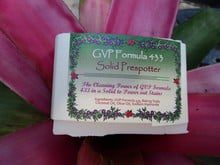 Solid Stick Pre-Spotter – Think of the Shout pre-spotter but way, way more natural and nontoxic. Just wet the bar a little and rub it into any stains prior to washing your clothes. Poof, stain gone. They say it works on carpets, but I don't have any carpets to test on so will have to take their word for it.
I thank Jeremy for sending me a few items to try out, because before I got his email I hadn't ever heard of this company. I get a lot of offers to give away products, and most of them I turn down because they are just brands looking to greenwash themselves. Green Virgin seems to be the real thing, and thus – this is your chance to win a very cool package of items! You can win each one of the products I discussed above, and they will be mailed directly to you from Green Virgin. That's the Soap Nuts Liquid, Moringa Oleifera Oil, Deodorant Stone, and the Solid Stick Pre-Spotter. Ready to enter? Follow these rules carefully to make sure your entry gets counted!
The giveaway starts now and I will accept entries until Thursday, June 5th at 11:59PM EST. No entries will be accepted after that.
Your choice. You can either sign up for the company's email newsletter on their site (at the bottom, on the right), then come back to to this post and leave a comment, telling me you signed up and what you thought of their website. Entry is by comment on this post only. Please do NOT email a comment; leave it here on this post.
Or, if you use Facebook, support the company with a Like on their page then come back to to this post and leave a comment, telling me you Liked them on FB. Entry is by comment on this post only. Please do NOT email a comment; leave it here on this post.
Only one entry per person. Period. Please don't try to use different email addresses, etc.
Entries must be from US residents.
One winner will be chosen at random from all eligible entries received and notified via email after the giveaway ends. You will receive an email from me asking for your mailing address if you are the winner, and Green Virgin Products will ship directly to you.
Good luck, and thanks to the company for turning me on to some very cool "green" products. Do your part for the Earth and take care of your home and your body!