Riding My Bike Has Changed My View Of The World.
----------- Sponsored Links -----------
----------- Sponsored Links -----------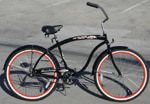 As regular readers might already know, we got rid of one of our cars a few months ago, leaving us with only our Mini. My wife takes it to work every day which leaves me with either my feet or my bike to get around. Spending the last few months with my bike as my main transportation has really opened up my eyes to what is in my neighborhood. When you are in a car you speed by things on your way to that very important…thing. But when you take your bike around town, you notice more – the architecture, restaurants you want to try, what other people are doing and just how oblivious some car drivers really are. I have nearly wiped out several times due to people pulling out in front of me or nearly sideswiping me in the bike lane. Most of the time they are on the phone which just reinforces my opinion that talking on the phone while driving should be outlawed, but that's for another post.
If you do not currently have a bike, you should consider getting one. It is amazing how it opens your eyes to your community and how much is going on that you normally would miss. The world seems much slower on a bike; I know I will get there when I get there and it gives me time to think and reflect. Never mind the fact that I am not emitting any pollution as I ride…I am also getting free exercise as well. So really, a bike does lots of positive things for you while not really doing anything negative. So much better than a car…
----------- Sponsored Links -----------
----------- Sponsored Links -----------