Scary Graph Of How U.S. Consumes More Gas Per Day Than Entire World.
----------- Sponsored Links -----------
----------- Sponsored Links -----------
From The Economist: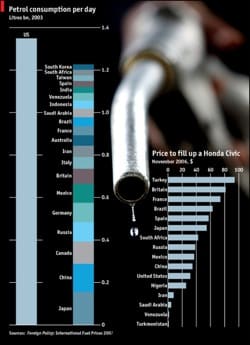 So in 2003, we used more gasoline than the next 20 consumers worldwide did. COMBINED. What does that say for our country other than we waste a ton of fuel driving when we could take public transportation, driving giant SUV's that never see a dirt road, never mind an actual foray into 4-wheeling, and our gasoline is too cheap? Complain all you want, but the only way to get consumption down and have a chance at making the oil we do have last a little longer is to up gas prices significantly.
That graph really puts things in perspective, no?
----------- Sponsored Links -----------
----------- Sponsored Links -----------