Shades Of Green – Cool And Simple "Green" Gift.
----------- Sponsored Links -----------
----------- Sponsored Links -----------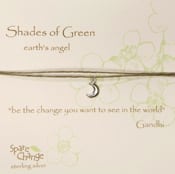 If you are looking to pick up a gift for the holidays (or any other reason, for that matter), you might want to check out the "Shades of Green" jewelry from Spare Change Jewelry. These very simple silver charm necklaces are pretty cool…very understated but nice to look at. To encourage more green in your life, they come with a packet of wildflower seeds for you to plant. Currently they are sold in over 1500 stores worldwide and have become quite the little hit. They retail for $26 and there are 8 different charms available. So if you are looking for a cool little green gift for a loved one, these might be just the ticket.
----------- Sponsored Links -----------
----------- Sponsored Links -----------