Sign The Petition To Bring The 100 Mile Per Charge Mitsubishi i-MiEV To The U.S..
----------- Sponsored Links -----------
----------- Sponsored Links -----------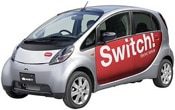 From AutoblogGreen – The Mitsubishi i-MiEV is one of the most exciting pure-electric projects discussed by a major automaker. For one thing, the numbers being tossed around for this city car are astounding: something around 100 miles per charge (depending on driving style) and 1,000 vehicles that might be ready for sale for €17,000 ($24,800US) in 2009 or 2010. The trouble is, for American drivers, that these vehicles are only going to be available in Japan and Europe (so far, Mitsubishi has only said "maybe" to U.S. sales of the i-MiEV). I just signed, won't you?
----------- Sponsored Links -----------
----------- Sponsored Links -----------