Life often wears us down from all the responsibilities, stresses, failures and hardships we frequently experience as a part of normal human existence. Mental health is as fragile as our physical health and burn out is a very real pitfall to avoid. It is important to create spaces to replenish and nourish our body, mind and spirit.

We have all at some point experienced burn out in some way. We work ourselves too hard trying to keep financially afloat while losing sight of our health and happiness. We pour ourselves wholeheartedly into relationships with friends, family, children and are quick to take care of others.
But stop and think for a moment about how much effort you put into your own care?
When last did you sit to enjoy a cup of tea? Or take a long, uninterrupted bath? Or jump in the ocean, walk through a forest, hike up a mountain to admire a breath-taking view?
While it may sound like an extreme solution, more and more people are turning to silent meditation retreats to unplug from the world and recharge their spiritual batteries – excuse the contradicting metaphors.
Types Of Retreat
Spiritual retreats vary according to different religious communities. There are a number of retreats to choose from.
Buddhism offers either solitude or community experiences, encouraging reflection, meditation and prayer.
Christianity retreats range in duration from a few hours to a month. This is a time spent away from normal life, reconnecting with God.
Sufi (Islam) retreats call for self-abandonment, seclusion or separation from home and life.
Yoga retreats however, are more recreational holidays to let go of stress. Many people travel abroad for these retreats.
Many retreats are excellent for finding healing from trauma that you may have experienced. However, if you are suffering from post-traumatic stress disorder, severe depression or anxiety, a silent meditation retreat may not be appropriate for you.
Meditation is strenuous and requires psychological stability. However, this guide will help you find the retreat that suits you perfectly.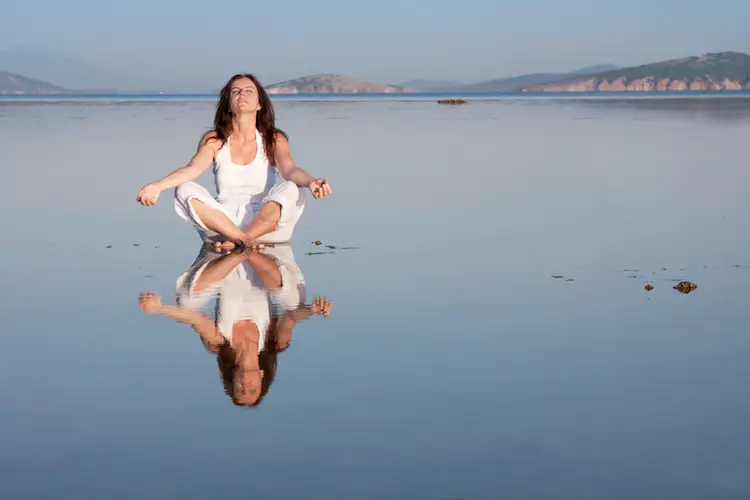 What To Expect
Expect to learn, to feel all of your emotions, reflect deeply and grow.
On a silent meditation retreat such as the Insight Meditation Society, one can expect to find complete silence. This is known as "Noble Silence".
Noble Silence is a term attributed to the Buddha, for his reported responses to certain questions about reality. One such instance is when he was asked the fourteen unanswerable questions. In similar situations he often responded to antinomy-based descriptions of reality by saying that both antithetical options presented to him were inappropriate. ~ Wikipedia
It is the quieting of the body and voice in order to bring about calmness and peace for participants. This silence not only enhances concentration and deepens awareness but also creates a sense of safety for others present.
Noble Silence includes abstinence from reading, writing or keeping a journal. It is preferred that you leave your cell phone at home, along with your laptop, iPad, iPod or any other form of communication that may cause distraction.
How Long Are The Retreats?
According to CatholicRetreats.net you can find silent retreats in any duration that suits your needs. They recommend that individuals build up their tolerance by starting with shorter intervals of silence:
Silent retreats differ in duration and structure. They may last a day or a full weekend, and it is not uncommon to find silent retreats that even last eight days or 30 days.
Before moving into the longer-duration silent retreats, though, many retreat centers strongly suggest experience with shorter silent retreats and regular times of prayer and silence in your everyday life. Even short periods of silence will involve spiritual peaks and valleys that can wear a person out, so it is best to practice a little every day (turn off background noise like the radio or tv, and pray) and to slowly build the periods of time that are spent in silence. Use this time in daily prayer to ask God for a good retreat experience before you go.
Is It Difficult To Remain Silent?
You will find it difficult at first to calm your mind and may even be confronted with emotions of pain and discomfort. But they will pass and you will learn how to achieve harmony within your mind.
Comfortable clothing and hiking shoes are required as you will most probably find yourself outdoors occasionally. For indoors, soft-soled shoes are requested to maintain silence. Sometimes, you will be asked to only bring unscented products with you, that means, no perfume or scented body soaps, lotions, shampoos or conditioners!
In addition to these challenges, Dharma.org offers a warning before deciding to embark on a silent meditation journey, echoing what we have said about mental health.
An intensive silent retreat can be a positive and life transforming experience. At the same time, meditation practice can be strenuous and requires some stability of physical and psychological health.

If you have recently experienced considerable trauma, significant depression or anxiety, or are currently experiencing strong PTSD (post traumatic stress disorder), a silent retreat may not be appropriate for you at this time in your life. A therapist can help you assess the wisest course duration for you, or if it's best to wait a while before signing up. Daily life practice may be more beneficial meanwhile.
A silent retreat is certainly not something to embark on without real consideration.

Additional Rules
In addition to silence, you may find that there are additional rules that visitors to the retreat are expected to adhere to.
Five ethical of the most typical precepts that you may encounter are the following:
To refrain from harming any living being, this includes insects!
To refrain from taking what is not freely given. This includes borrowing without consent of the giver.
To abstain from sexual activity.
To honour noble silence and refrain from harming with words. This includes lying, gossiping and other harmful language or words.
To abstain from drugs, alcohol and other intoxicants that may distract you.
A Typical Day At A Silent Retreat
A typical experience at a silent meditation retreat requires enormous commitment. Although it is difficult to calm your mind and to sit in meditation for 10 days, it is doable and many have reported back that it is rewarding.
On a silent meditation retreat, you will be expected to be completely silent. You are not allowed to speak to anyone or even make eye contact with anyone around you. You will be taught how to meditate, focusing on just your nose and the air that is coming through it. Your mind will be running wild with thoughts but you will be encouraged to let the thoughts pass without joining in the conversation.
To give you an example of what a typical day may entail, here's a look at the Insight Meditation Society schedule. At IMS, the daily schedule runs from 5:30am to 10pm. It consists of sitting and walking meditation practice and teachings on Buddha. Three meals are served and voluntary service, such as preparing meals and cleaning bathrooms are encouraged for mindfulness in everyday activities.
5:30am wake up
6:00 sitting meditation
6:30 breakfast
7:15 work-as-practice period
8:15 sitting meditation with instructions
9:15 walking meditation
10:00 sitting meditation
10:45 walking meditation or meeting with teachers
11:30 sitting meditation
12:00 lunch
1:45 walking meditation
2:15 sitting meditation
3:00 walking meditation
3:45 sitting meditation
4:30 walking meditation
5:00 dinner
6:15 sitting meditation
7:00 walking meditation
7:30 Dhama talk
8:30 walking meditation
9:00 sitting meditation
9:30 late tea, further practice or sleep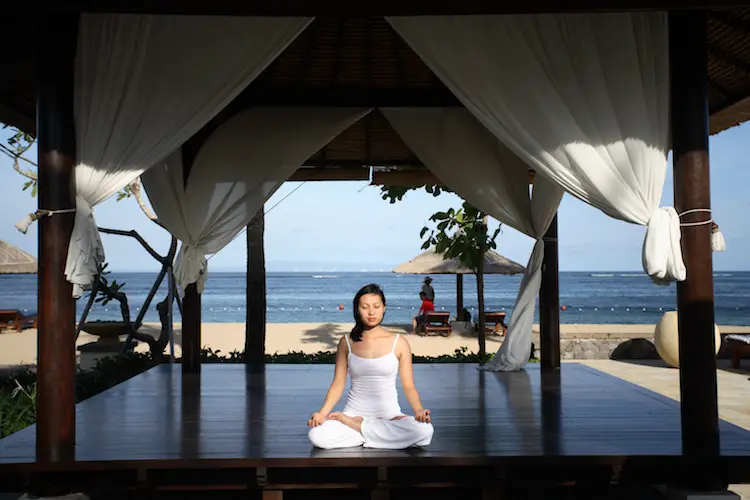 Benefits Of Meditation
Meditation works by increasing neural activity in the various parts of the brain. It is associated with decreased depression, anxiety and increases pain tolerance. It has also been found to increase memory, self-awareness and goal-setting. Meditators are able to produce more antibodies and have an increased immune function. Meditation is good not only for the mind but for the soul as well as it teaches you to be more empathetic. It also known to decreases sadness, tension and anger.
Summary
There are all manner of retreats to choose from, in locations across the Globe. It is possible to find one that suits your preferred duration as well as religious leaning.
They vary in intensity, some having different rules about just how silent they expect the silence to be, and what you can and can't do in your day.
What does seem to be the constant throughout all of the types is the fact that this level of detachment from the world at large is an extreme choice to make. It is extremely challenging for most people to achieve, especially if they have limited experience in meditation.
The best advice seems to be to take it slow, start by introducing periods of silence into your day, and then build up to short retreats. This will allow you to prepare yourself for the internal screaming that can become difficult to manage after a while.
The majority of people that take silent retreats return saying that they feel changed in a way – and many even report experiencing changes in their mental state., an example is given below.
It was during the 8-9 PM meditation session on the 8th Day — by then I was 80 hours into the 10 day, 100 hour meditation course — when I experienced something remarkable. I was partially kneeling and partially sitting on a small bench in the meditation hall with about 45 other meditators, doing breathing techniques (anapana) and scanning my body for sensations (vipassana). Shortly after starting the session, my mind became as sharp as I've ever felt it in my life. I was in complete control of a lucid, concentrated mind. ~ Ben Casnocha
These are the experiences that people strive for, and the reason that retreats are becoming more popular. But the difficult mental journey is a heavy price to pay for the chance of reaching spiritual transcendence.
There is certainly a need for balance in today's busy world, and silent meditation retreats could be one answer. But I tend to think that they are an intense choice when it comes to unwinding.
What are your thoughts? Have you ever attended a Spiritual Retreat? We would love to hear from you.