Eliminate Plastic Bottles At Home Forever
----------- Sponsored Links -----------
----------- Sponsored Links -----------
A few years ago I received a SodaStream, which I mentioned in my 2009 eco-friendly holiday gift guide as a great gift for anyone who drinks a lot of carbonated beverages. Well, it's now been 2+ years later since I got it, and it's still going strong in my house.
The SodaStream machine is a home carbonation kit, which makes both plain fizzy water and any flavored soda of your choosing, all using bottles that are just washed in between each use. It uses no electricity and produces no waste, and also doesn't require any recycling. Other than swapping the CO2 cartridges at a local retailer or through the mail, it's a rather painless, inexpensive way to always have bubbly water on hand without any of the waste normally associated with buying plastic bottles full of the stuff.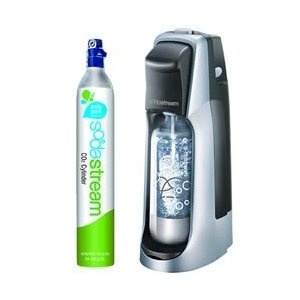 We go through about two liters of carbonated water a day around here. If I had actually bought two liters of carbonated water at the store every day for the last two years, I would have purchased at least 730 plastic bottles filled with bubbly water, all of which would have needed to have been made, bottled, packaged, shipped, and then recycled. But because I have my own carbonator at home, that's hundreds of bottles that didn't need to go through that process at all. Imagine if everyone had one!
If you normally buy bottled bubbly water, I highly suggest you get yourself one of these machines. They produce far less waste than buying water at the store and can save you a ton of money in the process. It's a win-win for the environment and your wallet, without having to sacrifice your favorite drinks of choice. Check them out if you haven't already.
----------- Sponsored Links -----------
----------- Sponsored Links -----------