Solar-Powered, Water-Harvesting RV Park
----------- Sponsored Links -----------
----------- Sponsored Links -----------
Planning a trip in your RV to New Mexico anytime soon? If so, you may want to check out the Santa Fe Skies RV Park, a 98-site, full-service RV facility which is powered by — wait for it — solar power! A family built, owned and operated park, it sits on 17 acres overlooking New Mexico. They have recently finished installing a grid-tied 192.5 kW solar power plant, which they aim to have provide at least 60% of the park's annual electric use. It uses 810 solar panels of 238 watts each, and the cost for the project was around $1.3 million dollars. That's definitely a large investment in a clean-energy future, but I am sure that it will pay off in spades as utility bills climb ever higher.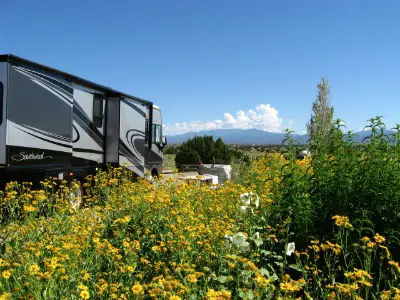 The owners have also installed a water harvesting system in the park, consisting of 9 cisterns which collect rainwater coming off the solar panel array. This water is used for regularly cleaning the dirt off the panels and for watering the various plants and trees on the property. Here in the desert water is as valuable as gold, so it's great to see a large park like this take the initiative to save what little of the wet stuff we get from the sky.
The park is located here south of Santa Fe, and if you happen to come through be sure to let me know you are in town!
----------- Sponsored Links -----------
----------- Sponsored Links -----------