Standing On Green Principles.
----------- Sponsored Links -----------
----------- Sponsored Links -----------
I try to be as open as I can be with you guys here on this site. Sometimes I succeed and sometimes I fail, but I try my best to be honest about my "off-screen" behavior and lifestyle. I have even wrote articles about it – Please Forgive Me, For I Am An Eco-Sinner and Trust Me, We're Not As Green As You Think We Are. No one is perfect, and I will never claim to be so either. I just do my best to be as "eco" as I can be, and I hope this site inspires you to do the same, as that's the overall goal. But as of late I am finding myself discouraged by the rampant greenwashing and the lack of any sort of principles by some websites in the green blogosphere and even inside major environmental organizations.
It's one thing to not be able to do everything you can to be "green" (no one can, truly)… but it's an entirely different thing to not even bother to stand up (or worse, do the opposite of) for what you proclaim to believe in. It actually takes away from any progress we make towards a cleaner planet when so many are greenwashing for giant corporations that don't deserve coverage or giving up any integrity in exchange for a paycheck. How are people supposed to know what is truly eco-friendly and what is anything but, when both kinds of information are coming from the same content provider? It can get confusing out there, and the last thing we as environmentalists should want to do is scare people away from doing their part because they don't know which way is up! This is why standing on your principles is vitally important for both yourself and those who are looking for information from you; by doing so, you can rest easy knowing you are doing the right thing and your readers/customers will always come back for more.
A few thoughts about principles, which kinda got me started writing this article in the first place:
If you are an environmental organization, like the Sierra Club or The Nature Conservancy, don't take money from corporations that destroy the environment. Period. That would seem to be an obvious way of doing business, but more and more often it isn't. For instance, right now I am leading a campaign to get The Nature Conservancy to be open and honest about who their corporate donors are. Why? Because on their website they list Monsanto, ExxonMobil, BP, Cargill, Chevron, The Dow Chemical Company, and others as members of their "Leadership Council". What kind of environmental organization gives the world's biggest polluters a seat on a leadership council? If you are going to portend to be "the leading conservation organization working around the world to protect ecologically important lands and waters for nature and people," I don't think you should be rewarding a company like Monsanto for their destruction of the planet. You can't have it both ways. (Look for more on this in a future post/campaign. I am working with several other people to bring this to the next level.)
If you are a writer writing about "green" products, make sure the products you write about are actually environmentally and body-friendly. For example, don't just take a company's word for it that their ingredients are "natural", as by doing so you are doing a disservice to your readers who then may use a toxic product that you claimed was safe. Pageviews or a paycheck are not worth writing an article that not only can damage the human body, but that also goes against the very thing you are trying to promote.
If you run a website, it's OK to turn down ad dollars. Believe me, I know it's hard, especially with the way this economy is. It can be very tempting to accept advertising from the very companies who are damaging our planet, because they often dangle big dollar signs in front of you. In the 4 years I have been running this site, I have had advertising offers from some of the worst corporations doing business today – and I turned them all down. It just wasn't worth it to me to promote them to you guys in exchange for money, and I never would have stopped feeling guilty about it. Sure, the occasional "bad" ad shows up on the Google Adsense ads, and I do my best to block them when I see them, but sometimes you can't stop them before they show up. My principles are worth more than the money I could have gotten, even if that means my bank account comes up short once in a while.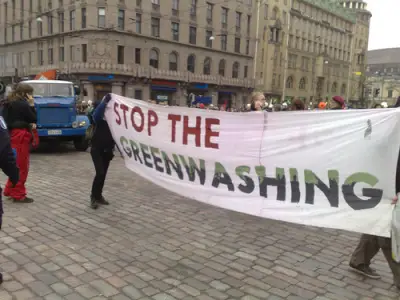 As I said at the top of this article and will always say, I myself have a FAR from perfect environmental record. But I do my best to live sustainably, with my eyes open to the parts of my life that may not be ideal, and I work hard to stay honest and true to my ideals – including here on the site with you guys. There's a saying that goes If you don't stand for something you will fall for anything, and my personal version of it is If you don't stand for something, you don't stand for anything. Sounds simple, but I think it is an important motto to try to live by, and I believe it is especially fitting for those of us working to clean up our environment and our planet for future generations. I encourage anyone working towards a greener planet to work with their integrity and values in check, as it's the only way we can move forward in the right direction and encourage others to join us in a responsible manner.
Photo by wstryder
----------- Sponsored Links -----------
----------- Sponsored Links -----------