Strengthen Your Family Bond – Plan A Game Night Away From Television.
----------- Sponsored Links -----------
----------- Sponsored Links -----------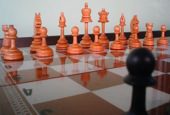 Image from stock.xchng
Once again, it is a diversion from the "green" aspect of this site, but being a Good Human is more than just being environmentally conscious. This week I want to discuss something that my family did a lot as a kid; we had game night (sometimes week!). Back then, for you "youngsters", we only had board games. Yep, games with just cardboard and some plastic pieces. But really, some of the games were quite fun and sometimes we had them set up for weeks at a time. But we would definitely make a concentrated effort to not turn on the television set at least once a week and just play games.
Nowadays some households might find it impossible to both NOT turn on the TV AND play games, as many people have video games and no board games. And as much as I like video games, there is something to be said for a simple board game that makes you interact with the other players and not with a television. You get to be a kid again; making fun of the other players, teaming up with another family member, sharing your thoughts and ideas for whatever game you want to play.
So for one night in the next month or so, try to leave the TV off and coerce your kids into playing a board game with you. If you don't have one, run out to Target or something like that and pick up a cheap one to try out. Give it a shot and see how much fun a few hours playing a game with the kids can be.
----------- Sponsored Links -----------
----------- Sponsored Links -----------