Can You Care For Children & Care For The Environment At The Same Time?
----------- Sponsored Links -----------
----------- Sponsored Links -----------
A while back, I was having a conversation with friends who have two small children, both under 5 years old. We were discussing how difficult it is to raise the children, what with both of them working full-time. I don't have kids myself, but I can empathize with just how busy their life is. Somehow this conversation turned to what I publish here on The Good Human, and they said that while they can appreciate my eco-efforts, they don't have time for all that "green" stuff now that they have kids. "We barely have time to take a shower once a day, never mind properly recycle or reduce our dependence on disposable products," the mom said. "Our primary goal right now is raising our kids properly, not making sure we live as green as possible." I hear you, of course it is! Who could ever argue that someone's kids are the priority? Not me!
However, those kids are the ones that are going to grow up on this planet.
If we, the "responsible" adults, don't take the initiative to make sure our planet is as healthy as we can make it, where does that leave the kids? Sure, they'll learn about recycling and chemicals in school (unlike us), but depending on their age it's going to be a while before they are out there on their own making their decisions about how to treat our world. That means it's up to us to do the right thing, and that includes doing so while raising our children. If we show them that we're too busy to clean up after ourselves, what lesson does that instill?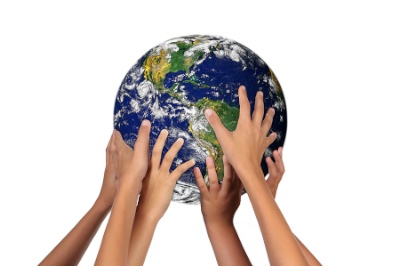 It's everyone's job to do the right thing.
Regardless if you have children, are planning on having children, or are planning on being childless, it's up to every single one of us to work hard in order to ensure that the future of humanity doesn't have to suffer because of our negligence. This is not a time for selfishness. Everyone is busy living their life, but we all have to find the time to do our part, regardless of our situation.
Your kids and grandkids will inherit whatever world you create and leave behind for them. You can care for children and the environment at the same time. In fact, your children are depending on you to do so.
*Note – my friends and I had a lengthy discussion about this and they decided they needed to do more, seeing it as a positive thing and not a drag. Sometimes, just a few words of encouragement is all anyone needs!
Image from BigStockPhoto
----------- Sponsored Links -----------
----------- Sponsored Links -----------