The 2009 No-Cost Garden.
----------- Sponsored Links -----------
----------- Sponsored Links -----------
This year we're taking a vow: We will try to grow at least half of our food in a garden that costs us absolutely nothing to create and maintain. In order to achieve this goal, we are initiating a new concept: No-cost gardening.
Home-grown food is essentially green in so many different ways. First, it saves you all those trips to and from the grocery store. It also encourages you to eat lots more produce. (Look, you've just harvested another bucketful of chard. Ordinarily, you might not consider a chard-based lunch, but hey — you grew it, so you don't wanna waste it. Hello, chard omelette/chard pancakes/chard-onion-potato-sage scramble!) And growing your own produce allows you to control what, if anything, goes onto that produce during the growing process. If you don't spray it with chemicals, then it doesn't get sprayed.
A lot of people are feeling inspired right now by the new "victory garden" at the White House. Even so, some folks hold back, because as currently practiced in much of urban (and suburban) America, gardening is no longer a way to save money on your food budget. Instead, gardening has evolved into a rather expensive upscale hobby that's comparable, in terms of potential expenditures, to sailing or golf. All the various backyard-garden accoutrements can be pricey, if bought full-price and retail. Knowing this, some people don't even bother trying to grow food at home because they assume that the overall expense would cost them more than just purchasing all the produce in stores.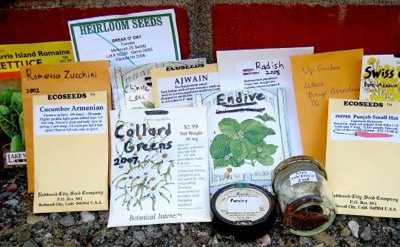 Sure, that assumption is accurate if you take into account the way most home gardening hobbyists operate. But it doesn't need to be that way. Using our simple scavenging principles, it's possible to create a neverending cornucopia of vegetables, fruits, herbs and legumes in a garden that costs you essentially nothing at all to create and maintain. Based on what's currently happening in our Northern California backyard, it looks like we'll spend this summer gorging on arugula, tomatillos, cucumbers, bok choy, collard greens, zucchini, lettuce, radishes and chard. And it won't cost us a cent.
Here are a few pointers to get you started:
Maximize your growing area. Whether you rent or own your home, try to clear out and make use of any potential gardening beds. The sunnier the spot, the better.
Save — and plant — the seeds from store-bought produce.
Find a community "seed swap" near you … or organize your own to trade extra seeds and starter plants with friends, neighbors or coworkers.
Ask your local ecology center whether a seed exchange is anywhere nearby. These free give-and-take "seed libraries" are growing in number and popularity.
Use scraps and scavenged items as tools. Plastic juice bottles with perforated lids become sprinklers. Old chopsticks become dividers. Strips cut from plastic yogurt tubs become identifying tags.
Plant as wide a variety of vegetables, herbs, fruits and legumes as possible. It makes the harvest so much more interesting, and makes your home-grown meals less repetitive.
Read more at our "Scavenging" blog, where we give illustrated step-by-step instructions for making your own no-cost garden — even if you don't have a backyard!
----------- Sponsored Links -----------
----------- Sponsored Links -----------