The Best Sunscreens For 2011
----------- Sponsored Links -----------
----------- Sponsored Links -----------
It's that time again — time for the annual EWG 2011 Sunscreen Guide to the safest and most effective sunscreens for the year. Each year I do a quick post to let you guys know when the list is available, and this year's list includes more than 1,700 sunscreens, sunblocks, lip balms and moisturizers, and the top-rated sunscreens all contain the minerals zinc or titanium. These are the right choice for people who are looking for the best UVA protection without any sunscreen chemical considered to be a potential hormone disruptor. None of the products contain oxybenzone or vitamin A and none are sprayed or powdered.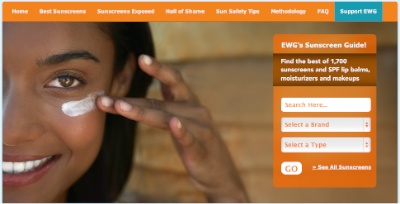 Products are rated for overall safety and efficacy in sun protection considering five factors:

– Health hazards associated with listed ingredients (based on a review of nearly 60 standard industry, academic, and government regulatory and toxicity databases)
– UVB protection (using SPF rating as the indicator of effectiveness)
– UVA protection (using a standard industry absorbance model)
– The balance of UVA/UVB protection (using the ratio of UVA absorbance to SPF)
– Stability (how quickly a sunscreen ingredient breaks down in the sun, using an in-house stability database compiled from published findings in industry and peer-reviewed stability studies).

Our calculated, overall rating for each product reflects a combination of the product's health hazard rating and efficacy rating.
The list includes a Hall of Shame of companies and products you should definitely avoid, information about how the FDA is letting down consumers when it comes to protecting them from toxic chemicals, a section on how we do need to get some Vitamin D from the sun in order to fight off disease, and Sunscreens Exposed: 9 surprising truths about today's sunscreens. The EWG pages are full of tons of useful (and important) information that you need to check out before you hit the beach or the trails this summer. My personal favorite sunscreen is from Badger, but there are many safe choices in the guide that are available at most common stores. Check it out before you go shopping, or if you have an iPhone, you can download the sunscreen buyer's guide app so you can be sure to buy the best sunscreen when standing at the store looking at all the choices. Download the app right here from iTunes, and be sure to read through the entire 2011 Sunscreen Guide.
----------- Sponsored Links -----------
----------- Sponsored Links -----------