The Central Valley Of California – Perfect For Wind Turbines.
----------- Sponsored Links -----------
----------- Sponsored Links -----------
On our way back from Nevada City this weekend on the 5 freeway, we stopped at a rest area somewhere in the Central Valley of California. If you have driven this road before, you might remember it by the giant cow farms where the animals wait to be slaughtered and delivered to your local McDonalds. The smell is something you would never forget…but that's another post for another day. Anyway, when we got out of the car to use the restroom, we were nearly blown over by the wind. It was howling at probably a solid 40 mph, and if I remember correctly, it always is in this area. There aren't really any houses in this area along the freeway, and we started thinking…what if they installed wind turbines along this entire stretch of highway? I imagine this could power tons of homes, along with all the farms in the area, without any negative effects on the environment. Some enterprising farmer should get into this business and get other farmers to lease their land to power companies for turbines, that way they can make some extra money for when business is slow.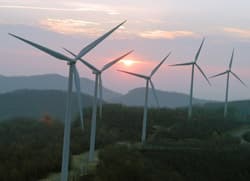 Either way, I think if I had the land and the money, I would cover my land with turbines to harness these amazing winds and make some money at the same time. Anyone own any land up there? If so, you might be missing out on some lucrative business along with the feeling of getting and providing electricity with no harm to the earth.
----------- Sponsored Links -----------
----------- Sponsored Links -----------