The MDI Air Car – The World's Cleanest Car.
----------- Sponsored Links -----------
----------- Sponsored Links -----------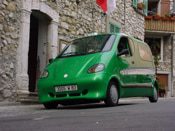 While not for sale yet, I don't think it will be long before Europe (and America, hopefully) will start seeing the MDI Air Car on the road everywhere. After all, who wouldn't love a car that runs only on air? No petroleum, no alternative fuels, no batteries – just compressed air tanks that can be refilled at home or while driving down the road. The company, MDI (Moteur Developpment International), is also planning a version that incorporates a combustion engine as well, which will enable you to take the car far away from home as you would a normal car, but use only compressed air within the city or your town. That is what I call a win-win and I would pick one up today if I could!
To keep the weight of the car down, the chassis is tubular, as in racing car engines and motorcycles, to produce strength at a very light weight. And the body is composed of a fibre-glass or hemp fibre, which is also incredibly light. Refilling the car will take place at adapted petrol stations to administer compressed air. In 2 or 3 minutes, and at a cost of approximately 1.5 Euros, the car will be ready to go another 200-300 kilometres. From the website:
Two technologies have been developed to meet different needs:

* Single energy compressed air engines
* Dual energy compressed air plus fuel engines

The single energy engines will be available in both Minicats and Citycats. These engines have been conceived for city use, where the maximum speed is 50 km/h and where MDI believes polluting will soon be prohibited. It is already possible to see examples of this in some places, such as London, where if you want to enter the city center with gasoline powered vehicles, you must pay a fee. The duel energy engine, on the other hand, has been conceived as much for the city as the open road and will be available in all MDI vehicles. The engines will work exclusively with compressed air while it is running under 50 km/h in urban areas. But when the car is used outside urban areas at speeds over 50 km/h, the engines will switch to fuel mode. The engine will be able to use gasoline, gas oil, bio diesel, gas, liquidized gas, ecological fuel, alcohol, etc. Both engines will be available with 2, 4 and 6 cylinders, When the air tanks are empty the driver will be able to switch to fuel mode, thanks to the car's on board computer.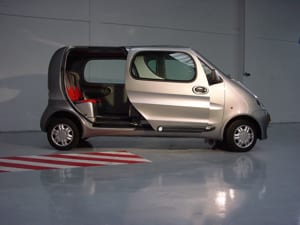 The car is being planned to come in several different model sizes – Family, Van, Taxi, Pick-up, and Mini-Cat, the smallest of the bunch. And while kind of odd-looking compared to the cars on the road today, I would definitely drive one. Hopefully, MDI will get all their manufacturing and licensing permits lined up and start getting these vehicles out into the market!
----------- Sponsored Links -----------
----------- Sponsored Links -----------