The Natural Way To Remove Candle Wax From A Carpet.
----------- Sponsored Links -----------
----------- Sponsored Links -----------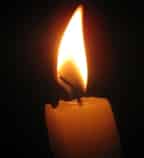 Ever have a candle drip wax right on to your carpet? Ever wondered how to get it up? Sure, there are (of course) companies ready to sell you chemicals to help you get it off, but you really only need 2 things that are probably already in your house – a newspaper and an iron. Easy enough, no?
First lay the newspaper down on top of the wax and set the iron to low. Once it has warmed up, start running the iron over the newspaper right on top of the wax. Slowing the wax will start melting and get absorbed into the newspaper, lifting up off the carpet. I had to do this once in my old apartment and it worked like a charm There was a little residue and color left over, but it was way better than the big hard chunks of wax that were on the floor.
Doing it this way you can remove most of the wax without chemicals or spending any money. Hope you never need to do it, but this should certainly help!
----------- Sponsored Links -----------
----------- Sponsored Links -----------