Guess the millions they get from Monsanto just isn't enough for The Nature Conservancy. They want in on the oil and gas boom, too.
For years I have been writing about the absurd partnership between The Nature Conservancy and Monsanto. One, a destroyer of the environment. The other, a (supposed) environmental group. See any conflict of interest there? TNC doesn't think so, even after they provided me with funding documents in 2009 that detailed just how many millions of dollars Monsanto shovels their way. That may have been 5 years ago, but that partnership continues today.
This morning, however, I was alerted to something I didn't know about The Nature Conservancy: they also profit off of oil and gas drilling on lands they are supposed to be protecting. Yes, you read that right – land set aside for conservation by TNC is not only being drilled on, but TNC is benefiting from this drilling. According to The New York Times, they are splitting the profits with the oil company.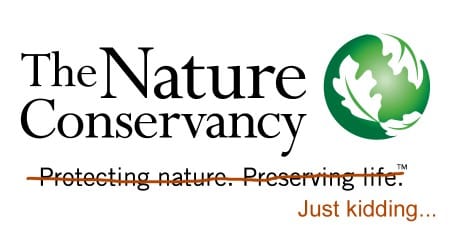 Naomi Klein's new book "This Changes Everything: Capitalism vs. The Climate" covers this partnership and last week The Nature Conservancy confirmed it. The property is supposed to be a protective refuge one of the most endangered birds in America, the Attwater's prairie chicken. The chickens, however, have disappeared from the land.
From the NYT article:
The Nature Conservancy "has just lost its moral compass," said Kierán Suckling, executive director of the Center for Biological Diversity, a group that works extensively on endangered species. "The very idea of oil drilling inside a reserve is utterly wrong, and it's especially disturbing in this case because the Attwater's prairie chicken is one of the most endangered species in the entire country. It could very well be the next species to go extinct in the United States."
I'd say. But what would you expect when the leader of the group is an ex-Goldman Sachs executive? Profit is the bottom line, environment be damned. If you're interested in learning more, check out my previous articles Greenwash Of The Week: The Nature Conservancy and Corporate Donors, The Nature Conservancy Taking Money From Company Exploiting Child Labor?, and The Nature Conservancy is only Enviro Group NOT Supporting Labeling of GMO Foods.
Head on over to their Facebook page and let them know what you think of their complete hypocrisy, and please – do NOT donate to this group. Tell everyone you know who cares about the environment.