The Nature Conservancy Taking Money From Company Exploiting Child Labor?
----------- Sponsored Links -----------
----------- Sponsored Links -----------
As I mentioned back in September, The Nature Conservancy takes millions in corporate donations from polluters to fund their "enviro" activities. After writing them for quite some time I was finally sent a document listing some of their biggest donors for 2009, a list which included Monsanto, Shell, Chevron, ConocoPhillips, Nestle, and Altria. But one more name on that list now has something else tied to it – the exploitation of child labor to make billions of dollars. Cargill, who gave The Nature Conservancy over $1,000,000 in 2009, has just been outed by Change.org as a company still sourcing products made by forced and child labor. According to the report:
High prices for food may be devastating for millions of people around the world, but clearly companies like Cargill have little to complain about as their corporate profits accumulate. While Cargill makes more money than ever, it is shocking that the company is somehow unable to mobilize its immense resources to stop the use of forced labor and abusive child labor by its palm oil supplier. As I wrote on Change.org last month, there are numerous cases of workers being trapped and forced to work under unsafe conditions on palm oil plantations supplying for Cargill in Malaysia and Indonesia.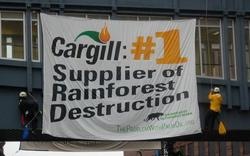 Sounds lovely, right? But as bad as that is, Cargill is in one business and one business only – to make money. However, their money doesn't stay only in their coffers, as they also donate it to groups in order to gain goodwill and maybe some cover for their deplorable actions. One of those groups benefitting from this money is The Nature Conservancy, a group with the main objective (on paper, at least) is to protect the environment — so why are they taking millions from a company with so little regard for the environment and the children working on palm oil plantations? In my opinion, it seems to me that these millions are worth more to The Nature Conservancy than doing the right thing is, since they take so much from other polluting companies.
Why do I bring this up? While Cargill rakes in profits from products harvested using exploited labor, it is often able to avoid public scrutiny since it is a privately-held company with little name recognition among consumers. You and I need to tell both Cargill and The Nature Conservancy that we are not ok with this. If you donate to The Nature Conservancy, start donating to another group instead or write them letters asking for a response on this matter. You can also head over to Change.org and sign the petition telling Cargill to stop forced and child labor in palm oil plantations.
----------- Sponsored Links -----------
----------- Sponsored Links -----------